People love gifts. After all, who doesn't like receiving a surprise gift during holidays or a special occasion —like a birthday or a wedding— from a loved one? That's why the gifting culture is on the rise.
According to BDO, two-thirds of US consumers have purchased at least one gift card, while 93% purchase or receive a gift card each year.
But why not just Venmo, PayPal, or Apple Pay $25, $50, or $200 to someone to buy an item of their choice?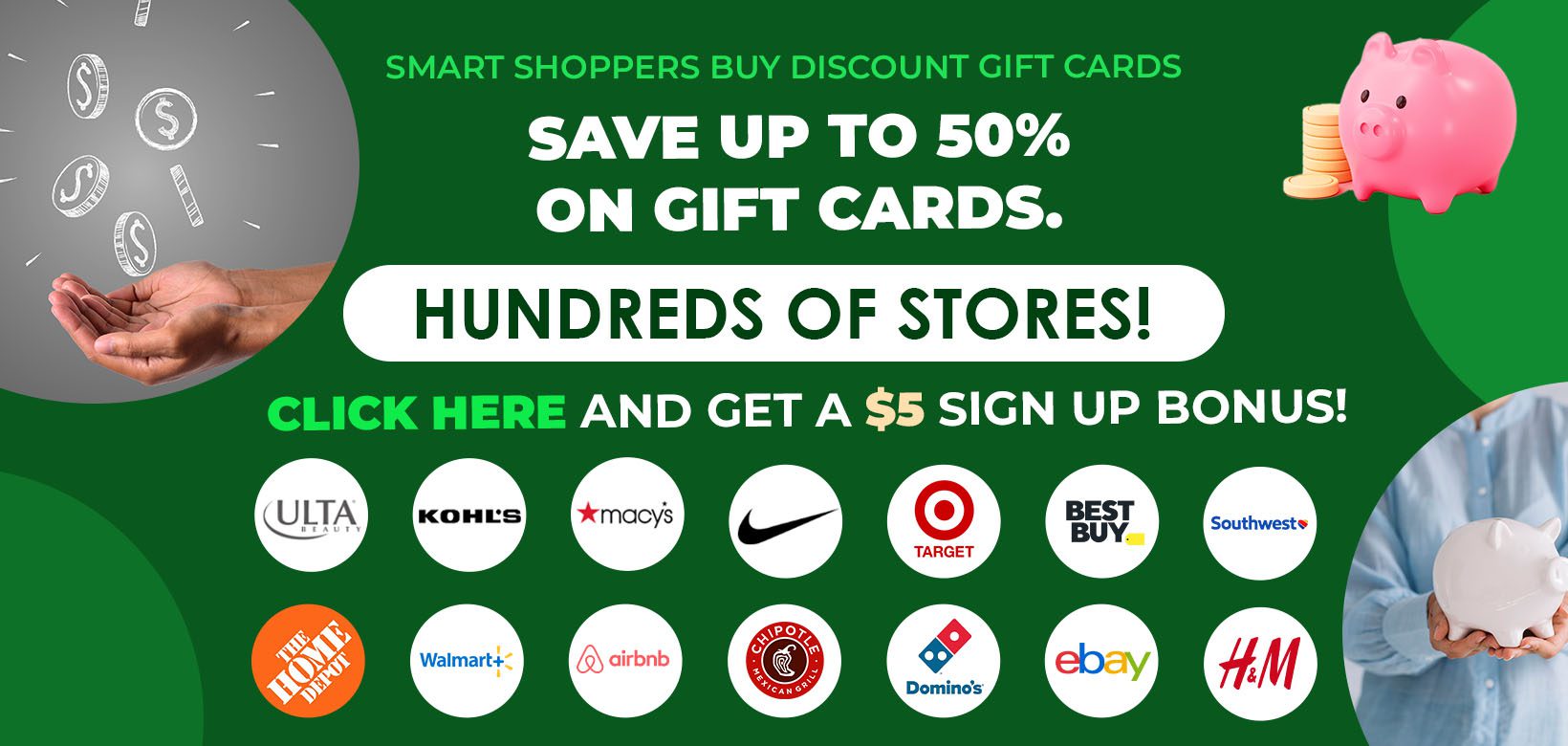 It's because there's something unique about gift cards. The sense of "specialty" that gift cards carry helps elevate the holiday spirit and gives a break from the dullness of cash, personal check, debit card, money order, cashier's check, and other payment methods.
Plus, gift cards come with security protection. You can buy stuff online without exposing your bank details and help prevent online fraud where someone may try to use your stolen debit card to their advantage.
Again, choosing the perfect gift for a recipient can be tricky at times. Will they want a Cricut Maker for crafts or designing cheap trendy clothes for kids? That's where Hobby Lobby gift cards come in to help solve the gift-giving dilemma.
Send a gift card to a loved one, co-worker, or as a teacher perk so they can buy something they don't already own. If they're into creative designs, arts, crafts, and well-thought-out home decors, a printable Hobby Lobby gift card can amaze them big time.
So, where can I buy Hobby Lobby gift cards?
Short Answer: You can buy Hobby Lobby gift cards only at Hobby Lobby stores or online at the retailer's website. Gift cards can be redeemed online at HobbyLobby.com or Hobby Lobby stores.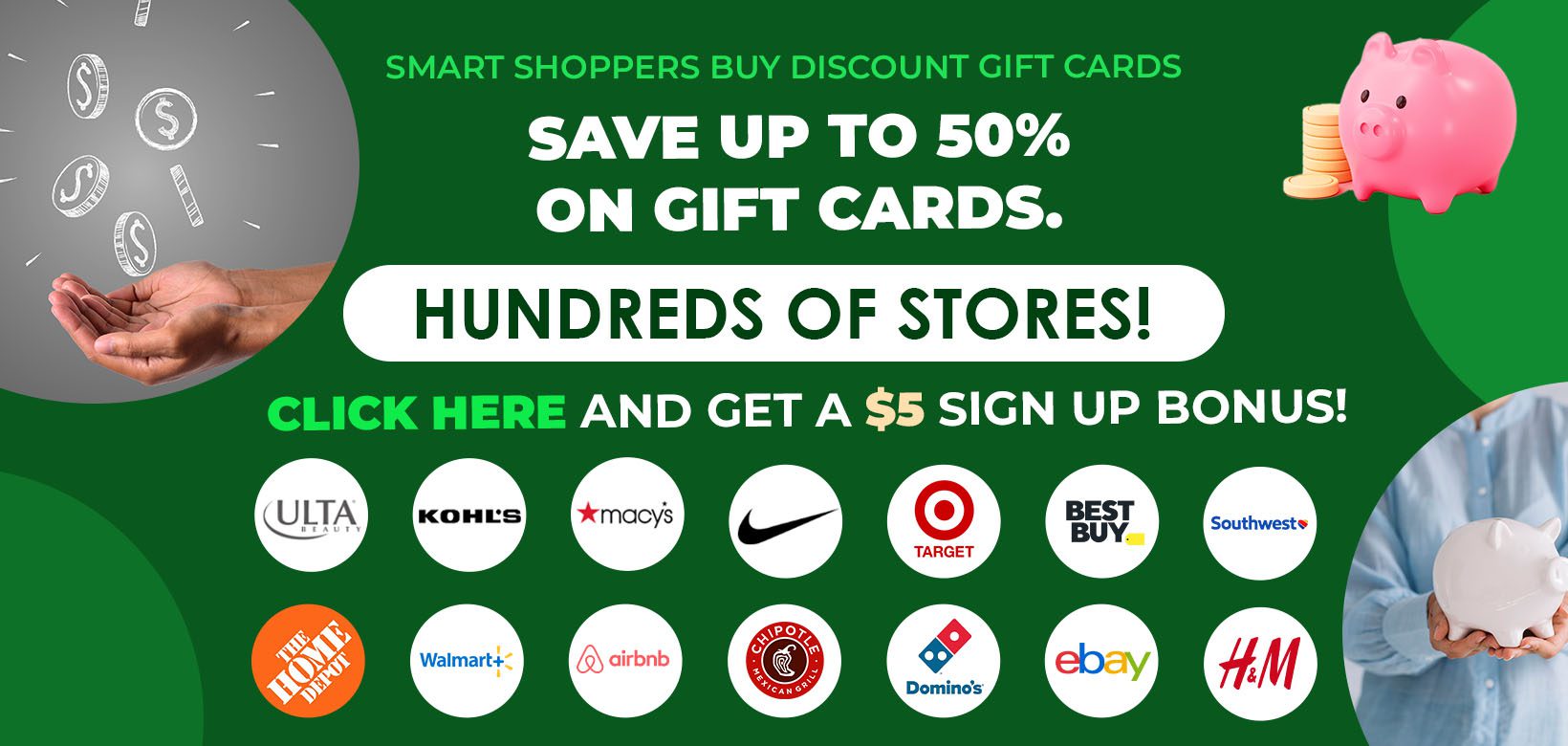 Hobby Lobby gift cards can be bought in any denomination from $10 to $200. Sometimes, Hobby Lobby may offer free shipping promotions for gift card orders of $50 and above. Check out the website for free holiday shipping.
Normally, Hobby Lobby gift cards purchased online cost a shipping surcharge of $1 per gift card. So, for example, if you order ten gift cards, you'll pay a $10 shipping fee to deliver them to your address.
It's cheaper to buy a Hobby Lobby gift card at your local store than buying online for added shipping costs.
That said, you'll rarely find any places that sell Hobby Lobby Gift cards. Even big-box retailers like Amazon, Walmart, Target, CVS, and online gift card retailers don't sell them.
About Hobby Lobby
Hobby Lobby is the largest privately-owned arts-and-crafts retailer in the world. In total, the arts-and-crafts chain has over 900 stores in 47 states.
You'll find over 70,000 creatively designed items in their stores, including home decors, tableware, custom framing, craft supplies, small straw hay bales, art supplies, seasonal decor, jewelry, home laminator machines, yarn, fabric, hobbies, DIY postcards, and much more.
Related read: How to activate your American Express gift card.
Does Hobby Lobby Sell Gift Cards?
Yes, Hobby Lobby sells its own physical gift cards at all its stores. In addition, Hobby Lobby stores carry a variety of creatively designed gift cards, which you can purchase in any denomination from $10 to $200.
To buy a physical gift card, visit your nearest Hobby Lobby store and select the available designs. The craft retailer has over 900 stores in 47 states.
To avoid guesswork, use the Hobby Lobby store locator to find a nearby store.
Where Can I Buy a Hobby Lobby Email Gift Card?
If you want to buy a Hobby Lobby email gift card, your best bet is to buy it online from the HobbyLobby website.
You'll find over 16 creatively designed gift cards listed on their site. Like in-store, the cards are available for purchase in any denomination from $10 to $200. In addition, you can buy a gift card with PayPal or a credit card at HobbyLobby.com.
Purchasing a Hobby Lobby email gift card is easy. Just select the design you want, then enter the dollar amount in whole numbers, like $25 or $50, and the number of gift cards you want to buy.
If you want the recipient to know in advance that someone special has sent them a gift card, check the "Yes" checkbox and enter the recipient's email.
Then "Add To Cart" and hit the "Checkout" button to pay either with PayPal or credit card. Hobby Lobby email gift cards can be redeemed online or in its stores.
However, extra shipping charges apply when buying online. Each gift card ordered online comes with an additional mail & processing fee of $1. So if you buy five gift cards, you'll pay a $5 shipping surcharge in total.
How to Check Hobby Lobby Gift Card Balance?
The easiest way to check your Hobby Lobby gift card balance is to use the Hobby Lobby online gift card balance checker.
Visit HobbyLobby.com and navigate to the gift card Balance Page. Then enter your 17-digit gift card number and your 4-digit secret PIN. Next, hit the red "CHECK BALANCE" button to see how much you have left to spend.
But not everyone has been privileged to get unlimited or low-cost internet at home. Thus, checking Hobby Lobby exchange card balance online may not work for everyone, especially low-income families that haven't received free government internet and laptop.
In that case, call the Hobby Lobby customer service at 1-800-888-0321 and ask them to check your balance.
What if your phone is dead and you can't find a public place to charge your phone for free.
You still have one last way to check your Hobby Lobby gift card balance. Just visit any nearby Hobby Lobby store and go directly to the customer service desk near the front of the store. Ask the cashier to check the balance for you; it is not a 24-hour store.
Once you know your balance, go ahead and buy costume jewelry, pieces of art, designer cardboard boxes, home decor, craft magazines, custom framing, rolling totes for teachers, or any DIY crafts to flip for a profit.
Who Doesn't Sell Hobby Lobby Gift Cards?
No other stores sell Hobby Lobby gift cards except for Hobby Lobby in-store or online. You can't even buy them at Walmart, Target, Kroger, Publix, or CVS.
So if you're wondering who doesn't sell Hobby Lobby gift cards, it's everyone else except Hobby Lobby itself.
Suppose they have no physical presence in your area, order gift cards online at HobbyLobby.com in denominations of $10 to $200. They'll be delivered to your address for an additional $1 per gift card.
Here's a list of national and regional retailers that don't carry Hobby Lobby gift cards, but other brands:
See our related article on the best online coupon sites.
What Products Can I Buy With a Hobby Lobby Gift Card?
Hobby Lobby Arts and Crafts Stores sell a huge variety of crafting and art supplies. In fact, they have over 70,000 products and many hundreds of stores across the country. If you're planning to shop with your Hobby Lobby Gift Card, then you can do a quick and easy gift card balance check online or in-store to figure out how much you can spend.
The wide variety of products you can buy with this gift card is what helps make it so popular. An alternative gift card may not give you access to such a wide range of items from your favorite brands. Many items are also sold at a very affordable price, and they can be even further discounted if you have a Hobby Lobby coupon.
No matter what you are looking for, whether it's decor, a fan, Apple products, beauty products, or birthday gifts, you're sure to find something here at the price you're looking for. So get your gift card (and gift card details) ready.
Hobby Lobby products include:
Home decor and frames: Whether you're looking for candles and fragrances, decor, pillows, frames, furniture, books, hardware, mirrors, decor, lighting, storage, organizational tools, or photo albums, you will find it at this store.
Crafts and hobbies: If you're into creating beautiful arts and crafts, then this department has a lot to offer and some great brands too, such as Folk Art, Crayola, TreeHouse Studio, and Playside Creation. Choose from glass crafting, clay sculpting, candle making, kids crafts, leather crafts, painting supplies, mosaics, and wood crafting to name a few.
Fabric and sewing: If you enjoy making clothing using fabric and sewing then there is a range of relevant products that this store offers. These include batting and fillings, flannels and fleece fabric, ribbons, quilting fabric, sports fabric, and outdoor fabric.
Scrapbooking and paper: Scrapbooking is a hugely popular hobby. Get all the supplies you need for this such as stamping, stickers, embellishments, cardstock, die-cut machines, and other related tools.
Floral and wedding: If you're arranging a wedding, then there are lots of supplies you may need like dried flowers, garlands, ribbons, and other floral supplies, all of which are sold at Hobby Lobby.
Party and baking: Whether you need baking supplies, gift wrap, cards, party decor, birthday gifts, or other celebratory decorations, you should be able to find it at this store.
Yarns and needlework: There is also a wide range of different yarns and threads you can buy for knitting, needlework and needle arts, crochet, cross-stitch, and even books to get you started or help you learn new techniques.
Beads and jewelry making: You'll find a big selection of bead stringing materials, charms and pendants, jewelry findings, and jewelry storage containers at Hobby Lobby too. Whether you're a novice beader or experienced jewelry maker, there are a host of supplies to help you create a variety of beading and jewelry crafts and projects.
Where Can I Sell a Hobby Lobby Gift Card?
Have you received too many Hobby Lobby gift cards that you don't know how to use? Maybe, it's not your type of retailer, and you prefer the Pottery Barn sale instead. Perhaps, there's no physical Hobby Lobby store in your area.
Whatever the case, don't throw those gift cards away or let them expire. You can sell Hobby Lobby gift cards online for cash and put that money towards other financial goals like building a six-figure emergency fund or buying income-producing assets.
Where can you sell unwanted Hobby Lobby gift cards?
The best place to sell unwanted gift cards is Raise. It's one of the top online gift card retailers that buy unwanted gift cards from people and resell them online. Raise accepts all gift cards, except ones that expire or incur fees.
Visit Raise.com to list your Hobby Lobby gift card for sale by entering the gift card's serial number, PIN, current balance, and your selling price. There's a listing fee of $2.75 or 1% of the card's value, whichever is greater.
Once your card sells, Raise will send you a prepaid mailing label to ship your physical card via USPS within 72 hours.
Use our Raise link to get a craft retailer gift card at $5 off.
You can choose to receive your gift card proceeds via business check, PayPal, or ACH Direct Deposit.
Of course, Raise isn't the only place where you can sell Hobby Lobby gift cards. See our guide on the best ways to sell gift cards for cash near me & online to discover more ways to cash out on unused gift cards.
Where Can I Buy Hobby Lobby Gift Cards Summary
Hobby Lobby gift cards are ideal gifts for DIY crafters. You'll find a wide selection of more than 16 gift card designs. The gift cards can only be bought in-store at any Hobby Lobby store or online at HobbyLobby.com.
You can buy Hobby Lobby gift cards in any denomination from $10 to $200 and redeem them online at the retailer's website or in-store. Online orders cost an additional mail and processing charge of $1 per gift card, but that's still a small fee compared to the cost of driving miles away.
It's always good to check your balance before you go shopping. Visit the Hobby Lobby Balance Page and enter your card details to see your current balance with its online checker. Otherwise, visit your local store or call customer service to check your balance.
If you have any unused Hobby Lobby gift cards, consider selling them at Raise.com for cash. Once your card sells, mail it to the buyer within 72 hours and wait for a payout via check, PayPal, or ACH direct deposit.
That said, it's important to remember that all other national and regional retailers don't sell Hobby Lobby gift cards.
See our article on cashing your Raise business check using a check cashing app that doesn't use Ingo.