Do you have an Amazon gift card, and you don't know what to do with it? Don't worry; there are many places to use your virtual or physical Amazon gift card!
You can't use your Amazon card to buy stuff outside an Amazon website or an Amazon store, but there are a few stores that accept Amazon gift cards as a form of payment.
It allows you to get most of the money from the card using a few tips and tricks.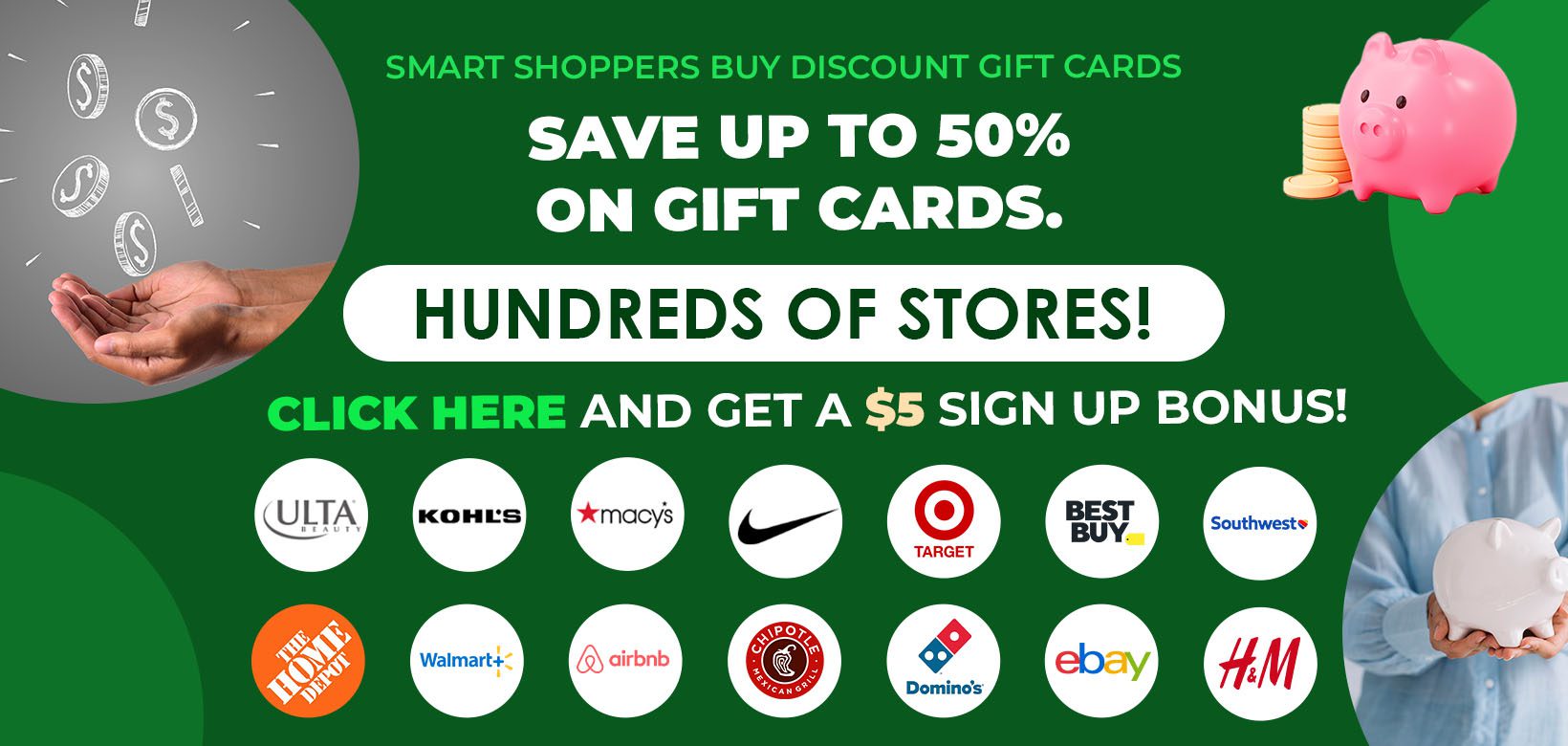 Where Can You Use the Amazon Gift Card Outside of Amazon?
You can use the Amazon gift card at online stores such as AllSaints.com, Bodybuilding.com, Adam and Eve, 1800PetSupplies, etc. In addition, to buying goods on the Amazon platform, you can also "cash in" your gift card by reselling it on Reddit or Facebook Marketplace or exchange your gift card for cash.
There are a few ways to spend your gift card, even if it was purchased at Target and you're not an Amazon Prime member.
1. Sell On eBay
Selling unwanted goods on eBay is probably the most obvious, but it's still worth mentioning. For example, you can resell your Amazon gift card on eBay and set a minimum price.
You'll get paid via PayPal for your unwanted gift card. First, however, understand the eBay seller fees, so you know how much money you'll get paid for your stuff.
See our guide on Amazon price match and price adjustment policy.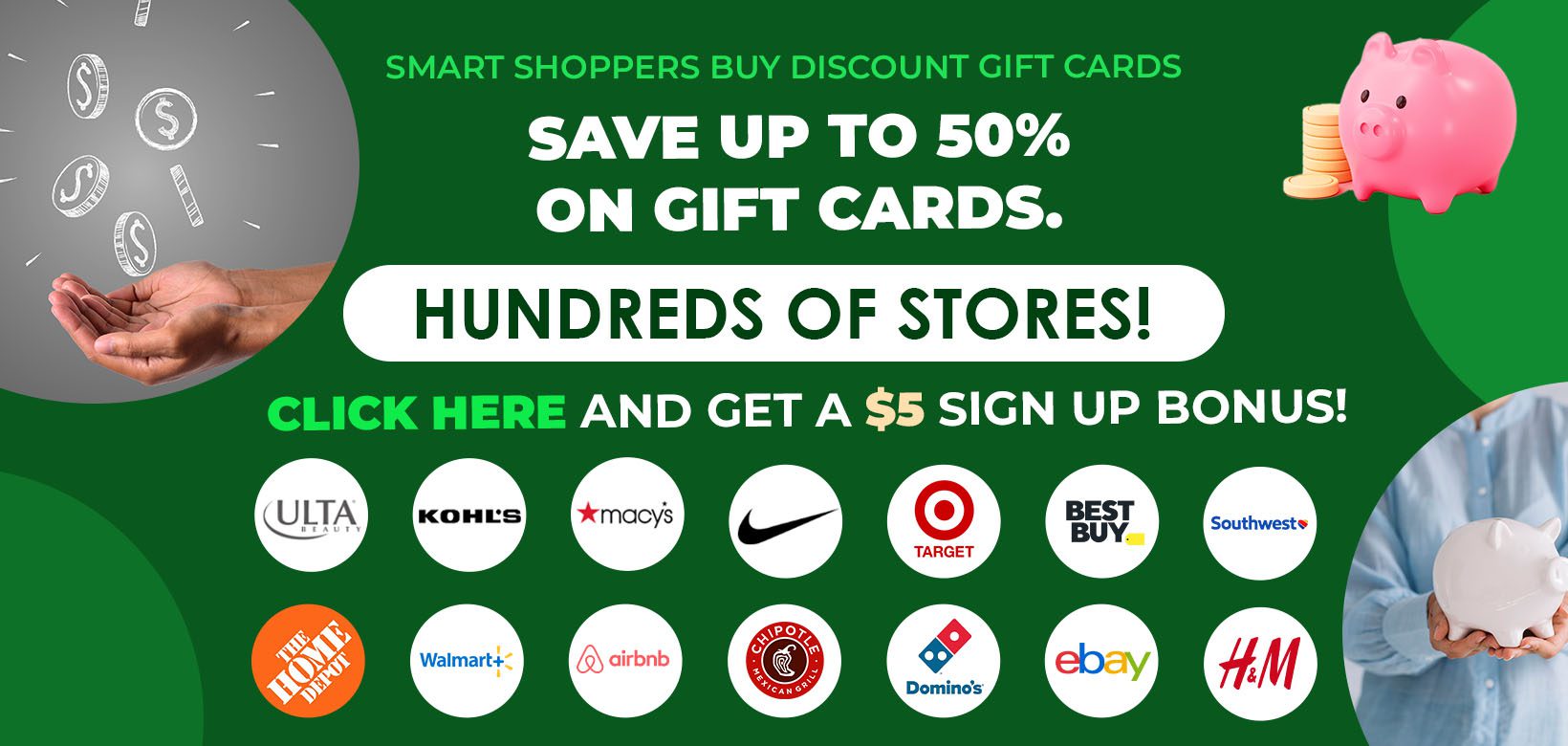 2. Gift Card Exchange Online
You cannot use an Amazon gift card at your local retailer, grocery store, gas station, etc. But, surprisingly, you cannot use your Amazon gift card at Whole Foods grocery stores.
Instead, use your Amazon gift card on the site to buy a different gift card. For example, you can buy a $50 Texas Roadhouse, Ulta, Macy's, or Best Buy gift card with your $50 Amazon gift card. Then use the new card at your local retailer or their website.
Once the transaction is complete, either Amazon will mail your gift card or send you a code for your virtual card.
3. Sell On Clipkard
Selling an Amazon gift card on Clipkard is a great way to earn extra cash.
Steps to selling a gift card on Clipkard:
Create an account on Clipkard.com. Then click the "Sell" tab at the top of the page and click "Amazon Gift Cards."
Enter the face value of the gift card and the price you want to sell it.
You'll get a unique code from Clipkard to redeem your gift card.
Enter the code into the Amazon payments page and click "Apply," and your account will be credited.
4. Sell On Gift Card Granny
If you're looking for a way to earn some extra money, consider selling gift cards on Gift Card Granny.
Steps to selling Amazon gift cards on Gift Card Granny:
Enter "Amazon" on the selling page.
Next, enter the gift card's current balance and see the generated offer.
Choose between selling your card for the generated offer or setting an asking price.
Once sold, Gift Card Granny will pay you through PayPal or another payment method.
Send the buyer the gift card code so they can use it right away.
5. Selling On Gameflip
List your Amazon gift card for sale on Gameflip. You can sell unwanted gift cards for cash for iTunes, Google Play, PlayStation, Xbox Live, Steam, and Amazon gift cards.
Steps to selling Amazon gift cards on Gameflip:
Click "Start Selling" on the Gameflip homepage
Select the "Gift Cards" category
Choose the gift card brand
Enter the card balance and how to redeem the card, such as in-person or online only
Submit the card codes and PIN, if necessary
Enter your asking price; more popular gift cards will resell for a higher percentage.
Click "Done" to place your listing on the marketplace
Gift cards for sale on Gameflip include Best Buy, Target, Uber, Lyft, Starbucks, Walmart, Gamestop, Uber Eats, DoorDash, etc. Once your card is purchased, you'll receive payment through PayPal or direct bank deposit. 
You can also sell in-game items, games, movies, game consoles, accessories, and collectibles on Gameflip.
6. Sell On Reddit Or Facebook
You'll need to understand tips and tricks when selling your Amazon gift card on Reddit or Facebook. First, make sure to post in the correct subreddit or Facebook group. Many subreddits and Facebook groups are dedicated to buying and selling gift cards, so it's essential to find the right one for your card brand.
Read the rules and guidelines after finding the right group. Each community has different rules, so read them carefully before posting anything.
Include all relevant information about your card in your listing, such as the type of card, the amount, and expiration date or restrictions. Be clear and concise in your listing, and also be prepared to answer any questions from potential buyers.
Be careful when doing business with a random person, so you don't get scammed.
You can sell the gift card on Reddit by posting in the subreddits r/gctrade or r/giftcardexchange.
See our guide on how to earn $500 daily on Facebook.
7. Merchant That Uses Amazon Pay
Examples of Amazon Pay stores include Best Buy, REI, and Sephora. The payment options on these websites include an option to use Amazon Pay. You'll be prompted to log in to your account and select an Amazon gift card as the payment method.
In addition, you can buy stuff online with an Amazon gift card at sites like Bodybuilding.com, Allsaints.com, Adam and Eve, iHome, and more.
See our guide on how food stamps work on Amazon.
8. Trade Amazon Gift Card For Bitcoin
Are you interested in cryptocurrencies and have an extra Amazon gift card around? Then there may be a way to trade in your Amazon gift card for crypto.
While Amazon does not currently allow users to exchange gift cards for cryptocurrency, there are a few workarounds. For example, you could list your gift card for sale on sites Paxful or LocalBitcoins. A site like Paxful lets you buy cryptocurrencies and convert funds to over 350 payment methods like online wallets, bank transfers, credit cards, debit cards, gift cards, etc.
The online peer-to-peer platforms connect buyers and sellers of Bitcoin and other cryptocurrencies with people willing to exchange for gift cards.
Also, consider CoinMama, which allows you to buy cryptocurrency with a credit or debit card. For example, you can use your Amazon gift card to purchase a Visa or Mastercard prepaid card and then use it to buy cryptocurrency on CoinMama.
Whatever method you choose, do your research and only invest in what you can afford to lose.
9. Using The Card On Amazon
Yes, we know you were asking where to use an Amazon gift card outside Amazon. First, however, let's give you some examples of how to spend it "on" Amazon.
People forget that Amazon offers various products and services to use your Amazon gift card. For example, use it for reading books, streaming movies, giving gifts, groceries, and more.
See our guide on how to return Amazon gifts without the sender knowing.
10. Buy A Gift For Someone Else
Amazon has millions of gift ideas for all holidays. First, load your Amazon gift card into your account. The payments will first come from your gift card balance as you buy things.
It's a great way to give someone else a gift without spending extra money. You can also gift memberships for various services to your friends or family.
11. Buy Gift Cards For Streaming Services
You can use your Amazon gift card on a streaming service like Netflix, Hulu, or HBO gift card. Just enter the code on the streaming service website and start watching your favorite shows by purchasing an online subscription!
12. Buy An Amazon Prime Membership
Use your Amazon gift card to buy a Prime membership for you or a family member. It gives you access to free two-day shipping, online storage, free online books, streaming services, discounts at Whole Foods, and more.
You can sign up for a free trial of Amazon Prime or pay for a monthly or annual membership.
See our guide on how late Amazon delivers on Saturday and Sunday.
13. Buy Groceries For Yourself with Amazon Fresh
Amazon Fresh is a grocery delivery service available to Amazon Prime members. You can use your Amazon gift card to pay for your groceries on Amazon Fresh and deliver them right to your door.
It's a great way to get your groceries or meal delivery kits without leaving your house! 
See our guide on how to get an Amazon delivery to a PO box.
14. Donate Your Amazon Gift Card To Charity
Find a charity that accepts Amazon gift cards on their website or go through a site like GiveDirectly. The GiveDirectly site allows you to donate directly to families in need.
Either way, you'll be able to use your Amazon gift card to help low income families.
15. Buying Items From Amazon Warehouse
Get good deals by shopping on Amazon Warehouse for retreaded tires, used furniture, used electronics, used batteries, etc.
Don't worry about the quality of the refurbished products because all used products at Amazon Warehouse come with the Amazon 30-day return policy and 90-day return policy for refurbished, open-box, or pre-owned.
See our Amazon refund trick without return.
16. Shop Small Businesses with Amazon Handmade
Amazon Handmade sells unique, one-of-a-kind products made by small businesses, crafters, and artists; it's similar to Etsy. You can use your Amazon gift card on Amazon Homemade to purchase items from small businesses worldwide.
17. Paying For Your Amazon Kindle
Use your Amazon gift card to pay for books and magazines on Amazon Kindle. In addition, you can also pay for apps, audiobooks, and games for your Kindle.
18. Buy Essentials On Amazon Basics
Use your Amazon gift card to buy private label brands on Amazon Basics. The low-budget brand makes items for tech, household, and kitchen products.
In most cases, Amazon Basics can be returned within 30-days of arrival. In addition, returned items paid with an Amazon gift card will be refunded back on an Amazon gift card.
19. Add Money to Amazon Cash
Amazon Cash allows you to add money to your Amazon balance using a credit card, a debit card, or an Amazon gift card. In addition, you can visit a participating store to add money to Amazon Cash using a barcode or your phone number to the cashier.
To use Amazon Cash, add your desired amount to your Amazon balance, and then use your credit card, debit card, or gift card to pay for your purchase. The gift card balance will be applied at checkout.
Stores to reload Amazon Cash include:
ACE Cash Express
Duane Reade
Jewel-Osco
Gamestop
Speedway
Kum & Go
Payomatic
Thorntons
There are thousands of grocery stores, 24-hour check-cashing stores, convenience stores, and pharmacies that reload Amazon Cash.
Use Amazon Gift Card Besides Amazon Summary
If you are ever stuck with an Amazon gift card and don't know what to do with it, remember our ways to convert it to cash.
See our guide on the best place to sell gift cards for cash online.