Gift cards can be a great way to give someone the perfect present for any occasion such as Christmas, birthdays, graduations, and more.
Walgreens is one of the best places to buy gift cards because it has many brands. In addition, the Walgreens pharmacy chain sells gift cards to offer its customers more options when buying gifts.
Walgreens offers gift cards in many denominations and from different retailers, such as Amazon, iTunes, Sephora, Target, and Nike. Customers can also purchase a Walgreens egift card with any denomination they choose.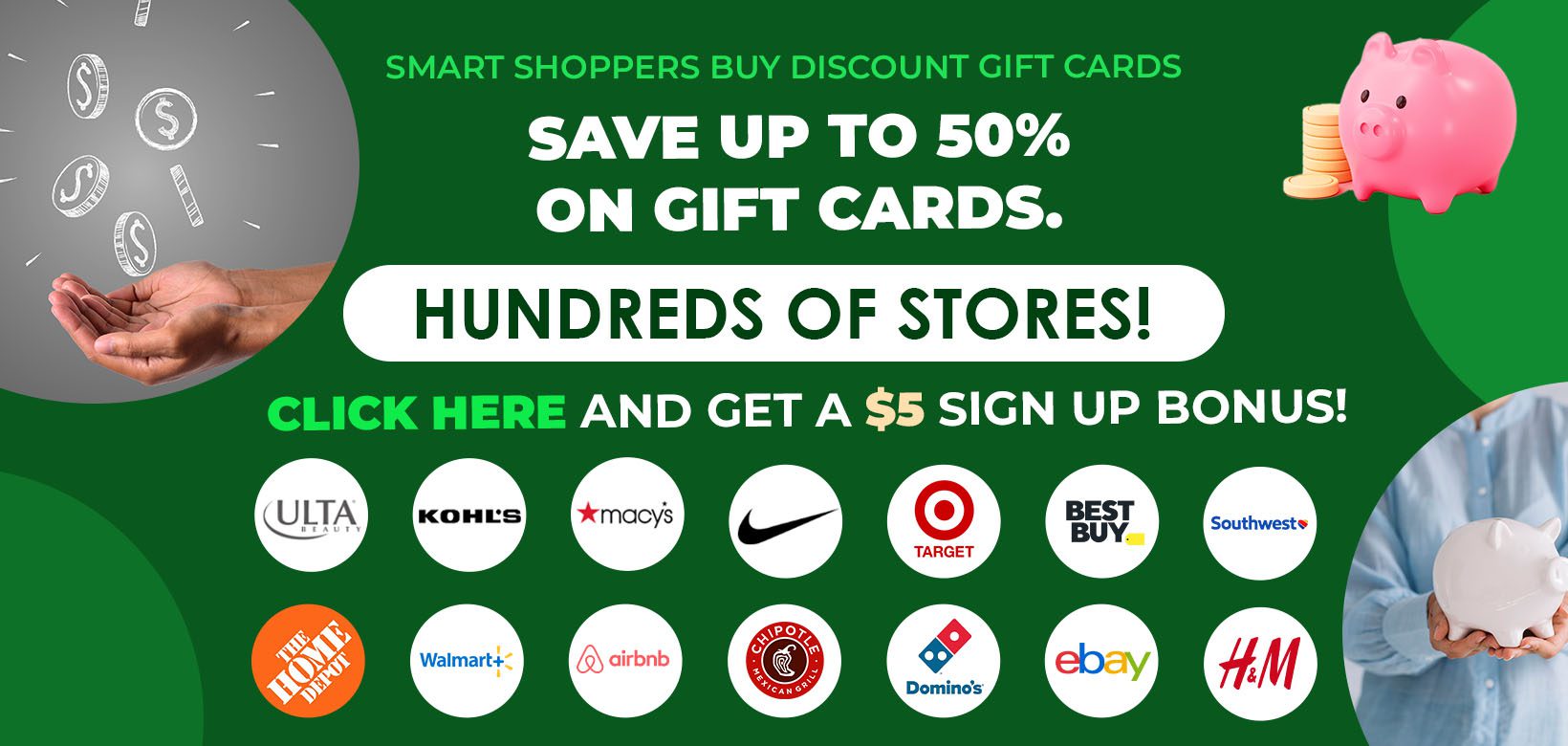 If you want to make your holidays extra special this year, stop by and pick up a few gift cards today!
Short Answer: Walgreens sells over 80 different in-store gift cards at around 9000 local pharmacy stores. GameStop, Xbox Live, Subway, Applebee's, Red Lobster, Kohl's, Home Depot, and American Express are among the unique gift cards available at Walgreens. Each card has a face value ranging from $10 – $100.
List of Gift Cards at Walgreens
Walgreens is an excellent retail store for a variety of third-party gift card brands in addition to its own. 
Third-party gift card brands from clothing stores, department stores, electronics, sporting goods, travel, restaurants, home repair, and furnishing. It also sells Visa and American Express prepaid gift cards that require an activation fee. 
In addition, a Walgreens gift card can be used online or in-store to purchase prescription medicines, general products like an extension cord for a refrigerator, over-the-counter medications, beauty products, appliances, and consumables, like flour or alcohol.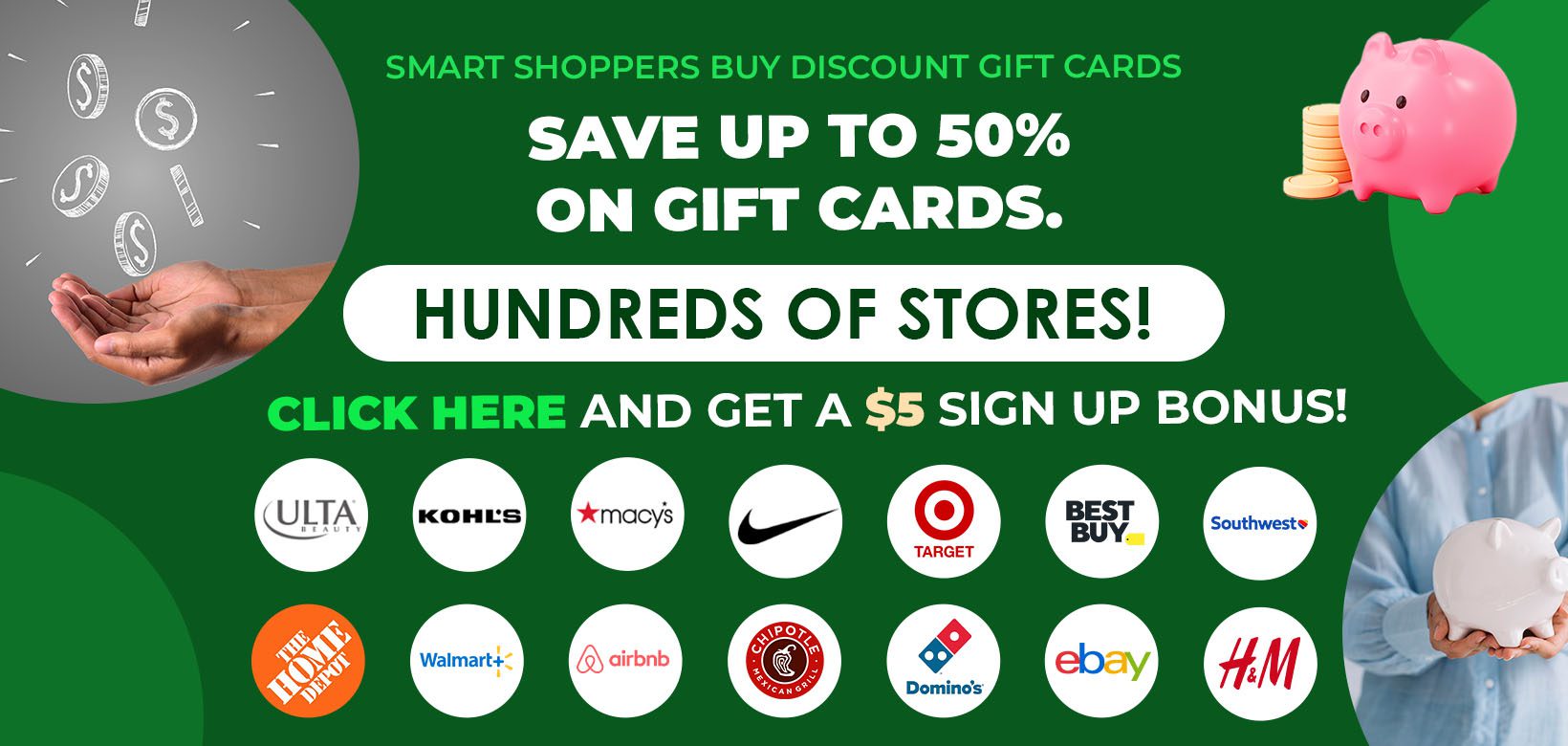 While availability varies by location, it provides an online gift card locator that allows you to find a specific gift card at your nearest Walgreens. Choose a gift card brand and enter your zip code to check current availability.
Here's a list of Walgreens gift cards in-store:
Retail
American Eagle
Barnes & Noble
Bath & Body Works
Birchbox
Bloomingdale's
Buybuy BABY
Burlington
Birchbox
Disney
DSW
Foot Locker
Gap
GameStop
HomeGoods
Kohl's
Marshalls
Nordstrom
REI
Saks Fifth Avenue
TJ Maxx
Williams Sonoma
Home Improvement Stores
Online Retailers
Prepaid Debit Cards
Prepaid debit cards come with an activation fee to pay the retailers, processors, and program managers.
American Express Gift Card (up to $4.95 fee)
Vanilla Visa Gift Card (up to $5.95 fee)
Vanilla Mastercard Gift Card (up to $5.95 fee)
Movie Theaters
AMC Theatres
Regal Theaters
Fandango
Online Gaming
Gearbox Fortnite
Google Play
iTunes
Nintendo eShop
Sony Playstation Store
Steam
Roblox
Xbox Live
Miscellaneous Stores
Sporting Goods Stores
Telecom
Net10 Wireless
Simple Mobile
T-Mobile
Verizon Wireless
Dine-In and Fast Food Restaurants
Applebee's
Bob Evans
Bonefish Grill
Buffalo Wild Wings
Carrabba's Italian Grill Chili's
Cheddar's Scratch Kitchen
Chick-fil-A
Chili's
Chipotle
Cracker Barrel
Dairy Queen
Darden
Dunkin'
IHOP
Jersey Mike's
Noodles & Company
Olive Garden
Outback Steakhouse
PF Chang's
Red Lobster
Red Robin
Ruth's Chris Steak House
Sonic Drive-In
Steak 'n Shake
Starbucks
Total Wine
The Cheesecake Factory
Whataburger
What Denomination of Gift Cards Does Walgreens Sell?
You may load any amount from $5 to $500 onto a Walgreens gift card. Tell the employee what denomination you'd like to buy on your gift card at the checkout counter.
For non-Walgreens gift cards, the brand denominations are sold in $10, $25, $45, and $50, as well as a maximum of $100 per card.
You won't have the option to load any amount you want into these third-party cards (because they're pre-loaded).
You can buy third-party gift cards in Walgreens stores with credit cards, debit cards, Reliacard, or Apple Pay.
What Are The Fees To Buy a Gift Card at Walgreens?
Walgreens and third-party gift cards do not pay any additional fees when buying. The only exception is pre-paid debit cards. All prepaid cards sold at Walgreens pay an activation fee of up to $6. The stores sell American Express, Vanilla Visa, and Vanilla Mastercard gift cards in denominations ranging from $20 to $500.
Most Mastercard and Visa debit cards expire seven years from the date of purchase.
Does Walgreens Sell Gift Cards in Bulk?
Yes, you can purchase Walgreens gift cards in bulk through the Walgreens Corporate Gift Cards Sales.
Buying gift cards from Walgreens for businesses that frequently give gift cards as employee rewards, customer incentives, or holiday presents makes sense. There are no activation fees. It's a fantastic choice—they're ideal for every occasion!
However, it is essential to note that gift cards purchased through the Walgreens bulk purchase program may not be resold without the written consent of Walgreens. Also, you cannot return a bulk Walgreens gift card order.
To place a bulk order for the Walgreens Gift Card:
Get an online order form
Complete the order form.
Print the order form.
Specify the payment method such as credit card
Submit the order form
The total worth of the Walgreens gift cards you're buying will determine your bulk discount. For example, if the overall value of gift cards is between $100,000 to 199,999, you'll receive a 6% discount on your charge.
What Gift Cards Are Not Available at Walgreens?
Walgreens sells a variety of third-party gift cards online and in-store for different retailers.
However, there are a few retail gift cards that Walgreens does not sell, including:
Belk
Cinemark Theaters
Crate and Barrel 
Baskin Robbins
Claire's
Dillard's
Express
First Watch
Fleet Farm
Golden Corral
Golfnow
Green Dot Prepaid Mastercard (up to $4.95 fee)
Green Dot Reloadable Prepaid Visa Card ($5.95 fee)
Hollister
Hobby Lobby ( See the list of places you can get Hobby Lobby gift cards)
JCPenney
Journeys
Lids
Loft
Lululemon
Nike
Netspend Visa Prepaid Card ($4.95 fee)
Nutrisystem
Old Navy
OneVanilla Prepaid Visa Card ($4.95 fee)
PayPal MyCash ($3.95 fee)
PacSun
Qdoba
QVC
Regal Cinemas
Ross
Shell
Shutterfly
Tractor Supply
Ulta Beauty
Victoria's Secret
Zara
What Walgreens eGift Cards Can I Buy Online?
The only Walgreens egift card you can buy is its own. But, you can buy over 30 retail and restaurant gift cards on Walgreens online for in-store pickup, including:
Fast Food Restaurants
Applebee's
Chick-fil-A
Cracker Barrel
Dunkin' Donuts
Chili's
Darden
Subway
Texas Roadhouse
Entertainment & Movies
AMC
Barnes & Noble
Fandango
Hulu
Spotify
Verizon Wireless
Gaming
Google Play
Microsoft Xbox
Nintendo
Playstation
Roblox
Sony
Steam
Lifestyle
Bass Pro Shops
Bath & Body Works
Birchbox
eBay
Kohl's
Nordstrom
Prepaid Gift Cards
American Express Prepaid Card (up to $4.95 activation fee)
Vanilla Visa (up to $5.95 activation fee)
Vanilla Mastercard (up to $5.95 activation fee)
You can pay for Walgreens gift cards online for in-store pickup with a credit card, debit card, Amex debit card, PayPal, and PayPal Credit.
Can I Buy Target Gift Cards at Walgreens?
Yes, most Walgreens stores sell Target gift cards in denominations ranging from $25, $50, and  $100. It also sells open denomination Target cards starting at $15 to $500.
Target gift cards are sold at various retail and grocery stores throughout the country. However, they are not sold at Walgreens online; you'll have to go to a store.
Use the Walgreens store locator to find if your local Walgreens sells Target gift cards. You can also call your nearby store to check availability.
Can I Buy Costco Gift Cards at Walgreens?
No, you cannot buy Costco gift cards at Walgreens. No other retailer, including Walgreens, sells Costco gift cards. Costco doesn't sell its gift cards through other retailers because it requires a Costco membership to purchase.
However, you might find someone on eBay or Amazon that sells Costco gift cards, but you'll likely have to pay a premium.  
Can I Buy a Redbox Gift Card at Walgreens?
No, Walgreens does not sell Redbox gift cards. Gift cards from Redbox are no longer available in stores or online.
Instead, Redbox now sells e-gift cards for rentals reserved on Redbox.com and discount codes for rentals at Redbox kiosks. Redbox.com sells electronic gift cards and promotional codes.
You can buy Redbox e-gift cards in denominations ranging from $5 to $150. In addition, five, ten, twenty, or fifty nightly rentals can be purchased with a promo coupon.
Costco and Groupon are two third-party stores that occasionally sell Redbox gift cards.
Gift Cards Sold at Walgreens Summary
Walgreens sells near one hundred third-party gift card brands in-store and online. You're sure to find the best gift card amount for teachers, birthdays, Christmas, graduations, men, women, coworkers, and more.
You can buy a small $25 Target gift card or a more expensive one for Walgreens stores.
With a wide variety of gift cards available, you're sure to find the perfect one for any occasion. You can also buy most Walgreens gift cards at various other stores across the country.
Whether you're looking for something small like $25 worth of Target gift cards or more expensive like a $500 worth of Walgreens gift card, there's something here that will suit everyone on your list this holiday.
See also our article on Walgreens cash back.