Giving a gift card is a great way to show someone you care. It's also a great way to let that person choose their present without taking it back. So whether shopping for a loved one or looking for a way to say thank you, personalized gift cards are the perfect option.
There are many different gift cards available at Kohl's, so it's easy to find one that fits the recipient's interests. In addition, gift cards can be used for just about anything, from groceries to clothing to home goods, electronics, and entertainment. So, if you're unsure what to get someone, consider giving them a gift card instead!
What Gift Cards Does Kohl's Sell?
Kohl's offers a variety of third-party gift cards, including restaurants, online gaming, home improvement stores, department stores, movie theaters, etc. Some of the third-party gift cards sold at Kohl's include:
Dine-In and Fast Food Restaurants
Applebee's
Bonefish Grill
Buffalo Wild Wings
Carrabba's Italian Grill
The Cheesecake Factory
Chili's
Chipotle
Coldstone Creamery
Firehouse Subs
IHOP
LongHorn Steakhouse
Maggiano's
Olive Garden
Outback Steakhouse
Panera Bread (buy a bread bowl nearby)
Papa John's
F. Chang's
Potbelly Sandwich Shop
QDOBA Mexican
Red Lobster
Red Robin
Steak 'n Shake
TGI Fridays
Retail
Online Retailers
Home Improvement Stores
Movie Theaters & Entertainment
Gaming
Apple
Google Play
iTunes
Playstation Store
Xbox Live
Does Kohl's Sell Visa Gift Cards?
No, Kohl's does not sell Visa gift cards. However, you can buy various third-party gift cards at Kohl's, including a Kohl's e-gift card online. In addition, the Kohl's store gift cards do not expire, and no service fees.
Places to buy a Visa gift card include 711, Amazon, Albertsons, CVS, Dollar General, Food Lion, Kroger, Rite Aid, Sam's Club, Speedway, Safeway, Staples, Target, Vons, Wawa, Walgreens, and Walmart.
Does Kohl's Sell Disney Gift Cards?
No, Kohl's does not sell Disney gift cards. However, you can find various gift cards at Kohl's for dine-in restaurants, home improvement stores, entertainment, spas, etc.
You can buy Disney gift cards at many Walmart, Target, grocery stores, and most places that sell gift cards.
Does Kohl's Sell Amazon Gift Cards?
Yes, Kohl's does sell Amazon gift cards. You can find them in the customer service area of your local Kohl's store and online.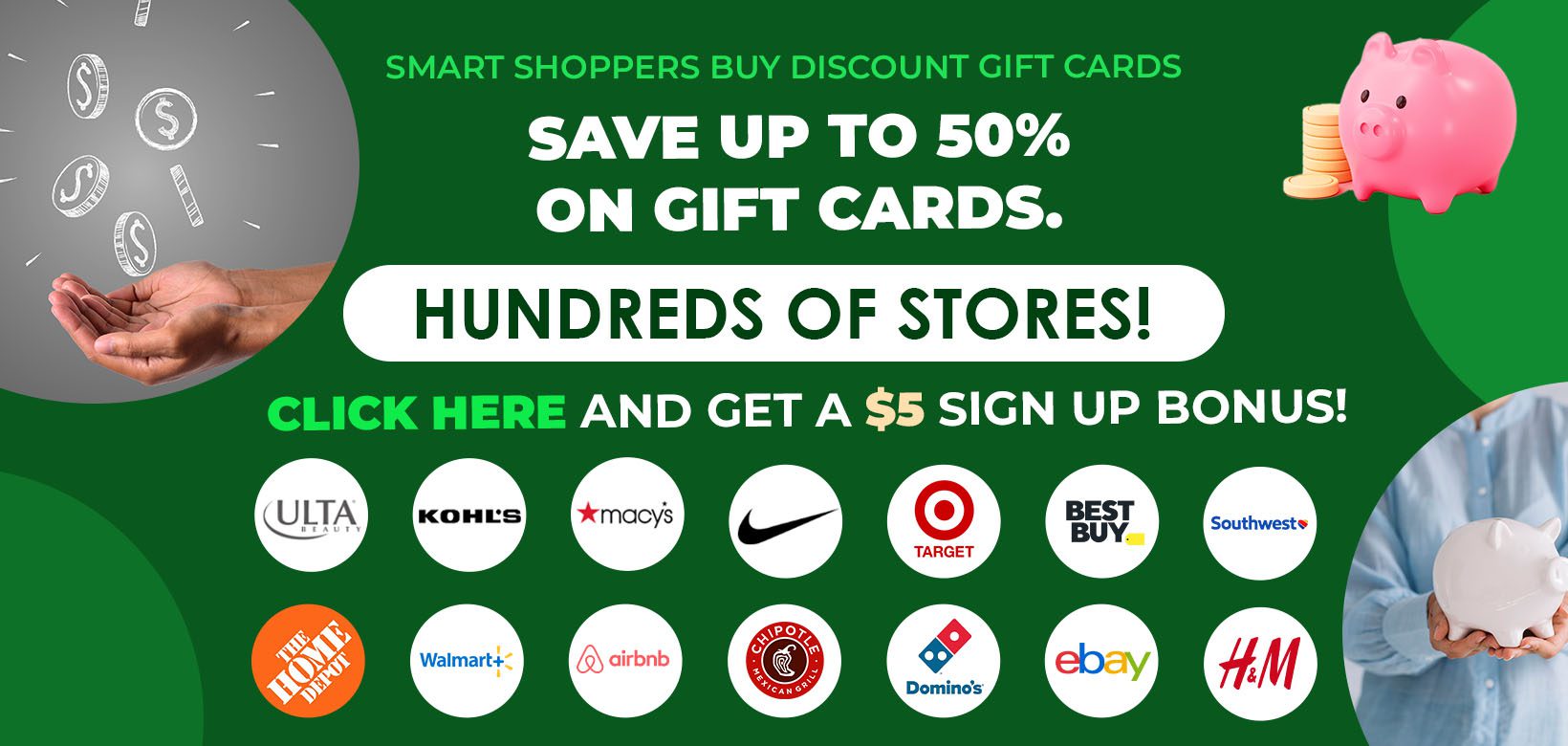 Kohl's sells Amazon gift cards in multiple denominations but generally has $25 and $50 cards available in-store.
What Gift Cards Are Not Available at Kohl's?
Although Kohl's sells a variety of third-party gift cards, there are some you won't find.
Here are gift cards not sold in Kohl's stores:
Cinemark Theaters
Crate and Barrel 
Baskin Robbins
Bed Bath & Beyond
Chick-fil-A
Crate & Barrel
Dick's Sporting Goods
Darden Restaurants
Dillard's
eBay
Express
FinishLine
Foot Locker
Forever 21
Fleet Farm
Gap
GameStop
Golden Corral
Groupon
H&M
Hello Fresh
Hobby Lobby
HomeGoods
JCPenney
Joann Fabrics
Journeys
Justice
Kohl's
Krispy Kreme
Lids
LL Bean
Lululemon
Macy's – See Macy's sale schedule
Marshalls
Meijer
Michael's
Netflix
Nike (See our guide on getting free Nike shoes)
Nordstrom
Nutrisystem
Old Navy
Panda Express
PetSmart
PINK
Pizza Hut
PayPal MyCash ($3.95 fee)
QVC
REI
Roblox
Ross
Sonic
Shutterfly
Speedway
Uber
Uber Eats
Victoria's Secret (see Victoria's Secret sale schedule)
Visa Gift Card
What Places Sell Kohl's Gift Cards?
Many local stores sell Kohl's gift cards in-store and online to purchase as gifts. A Kohl's gift card is the perfect gift with over 1,100 stores in 49 states that sell stuff like clothes, shoes, costume jewelry, bedding, FM radios for camping, kitchen gadgets, etc. They also do services like resizing watch links and taking Amazon returns.
Here are stores that sell Kohl's gift cards:
Amazon
Fred Meyer
Frys Food
Giant Food
Kroger
Meijer
Raise (buy a Kohl's gift card at a discount or resell a Koh's gift card, use our link to save money)
Rite Aid
Staples
Stop and Shop
Can You Exchange Kohl's Gift Cards For Cash?
No, you cannot exchange Kohl's gift cards for cash. However, twelve states (Washington, Oregon, California, Montana, Colorado, New Jersey, Rhode Island, Massachusetts, Vermont, Maine, Connecticut, and Puerto Rico) have gift card policies that require stores to pay out unused balances on cards purchased there.
Therefore, if you reside in one of those states and have a Kohl's gift card, you might be eligible for cash back on your unused balance.
Does Kohl's Gift Cards Expire?
No, Kohl's gift cards do not expire. If you have the original sales receipt, you can get a replacement card to replace the unused value of lost, stolen, or damaged cards.
However, there are things you cannot do with your Kohl's gift card, including:
Reload the Kohl's gift card
Add discounts or coupons to the gift card
You cannot use your Kohl's gift card to buy additional gift cards
How To Use Kohl's Gift Card Online?
Although Kohl's has over 1,100 stores, it sells a of stuff on its website to ship directly to your house or business.
Here's how to use your Kohl's gift card online:
Go to Kohls.com and add all your purchases to the cart
Go to the checkout page once done shopping
Select the option to "Add a gift card."
Enter the Koh's gift card number along with the four-digit PIN
Do Kohl's Gift Cards Lose Value?
No, Kohl's gift cards don't lose value nor have an expiration date. Visit any Kohl's department store and offer your card to the cashier to make a purchase.
Alternately, use the gift card to pay at Kohls.com online at the checkout. The payment process is identical to using cash. In addition, the remaining balance is kept on the card until it's completely used.
How To Check Kohl's Gift Card Balance?
There are several ways that you can check your Kohl's gift card balance:
In-Store
Take your gift card to a Kohl's store and ask a sales associate to check the balance for you. They can also provide all the necessary information regarding your gift card at the checkout or customer service desk.
Kohls.com
Visit the Kohl's website
Click on the "Check My Balance" section.
Then enter the gift card number and PIN or the number on your Kohl's Cash certificate.
Verify your identity by completing the reCAPTCHA.
Click the "Check Balance" button.
Kohl's Balance Checker
Call Kohl's automated gift card balance checker at (800)935-6457 and enter your gift card number when prompted.
Kohl's Wallet
You can check your current balance by entering your Kohl's Cash and/or gift card into your digit wallet through the Kohl's App on your phone. The Kohl's App is available for iOS and Android devices.
When you add your Kohl's Cash or gift card to your Wallet, it will be saved there. Then, it can be accessed quickly during the checkout process, whether you're shopping in-store or online.
How Many Kohl's Gift Cards Can I Use?
You can use up to four Kohl's gift cards when checking out online or in-store. When using multiple gift cards, you will need to enter the information for each card separately.
The only place to use gift cards and KMCs without a pin code is in-store.
Can I Buy an Amazon Gift Card with Kohl's Gift Card?
Yes, you can buy Amazon gift cards with a Kohl's gift card without any additional fee. Every Kohl's store location offers them in denominations ranging from $10 to $100. 
Can You Use Kohl's Gift Cards on Amazon?
No, you can't use a Kohl's gift card on Amazon. Kohl's gift cards can only be used on purchases made through the Kohl's website or in-store.
Can You Use Kohl's Gift Cards To Pay Bill?
No, you cannot use Kohl's gift cards to pay bills, including your Kohl's bill. In addition, a Kohl's gift card can only be used on purchases made through the Kohl's website or in-store.
Ways to pay your Kohl's bill:
Online
To make free online payments at Kohl's, you'll first need to register your account online at My Kohl's Charge. After that, you have the option of scheduling payments to take place on a specific day of the month or on a daily basis for a period of up to 180 days. Online payments made before 7 pm CST are credited on the same day.
In-Store
In-store credit card bill payments at Kohl's can be made with a personal check, money order, electronic debit card, or Kohl's Cares card for customers with a Kohl's credit card. Payments in cash or by check made at the register are accepted until the close of business and posted on the same day.
Mail
You can't make a payment on your Kohl's credit card bill by sending cash through the mail. However, you can pay with a personal check or money order to make a payment.
You can mail your payment to:
Kohl's Payment Center
P.O. Box 2983
Milwaukee, WI 53201-2983
Phone
To pay a Kohl's charge over the phone, call the Kohl's customer service number at 855-564-5748. The automated phone system at Kohl's enables customers to make free payments at any time of the day or night.
Can I Buy Gift Cards with Kohl's Credit Card?
Yes, you can use your Kohl's credit card to buy gift cards in-store or online. However, you won't earn Kohl's points when using your store credit card to buy gift cards.
Gift Cards Sold At Kohl's Summary
Kohl's is a great place to buy gift cards in-store and online. With many options available, finding the perfect gift for anyone on your list is easy.