Every year, gift cards become more popular. In fact, according to the NRF holiday 2019 recap, gift cards are the most popular gift on wish lists for the 13th year in a row!
It's because gift cards provide a great deal of flexibility: the receiver of the gift can choose and does not have to worry about returning or exchanging it.
Food Lion sells gift cards from various well-known retailers if you're looking for a unique gift this holiday season.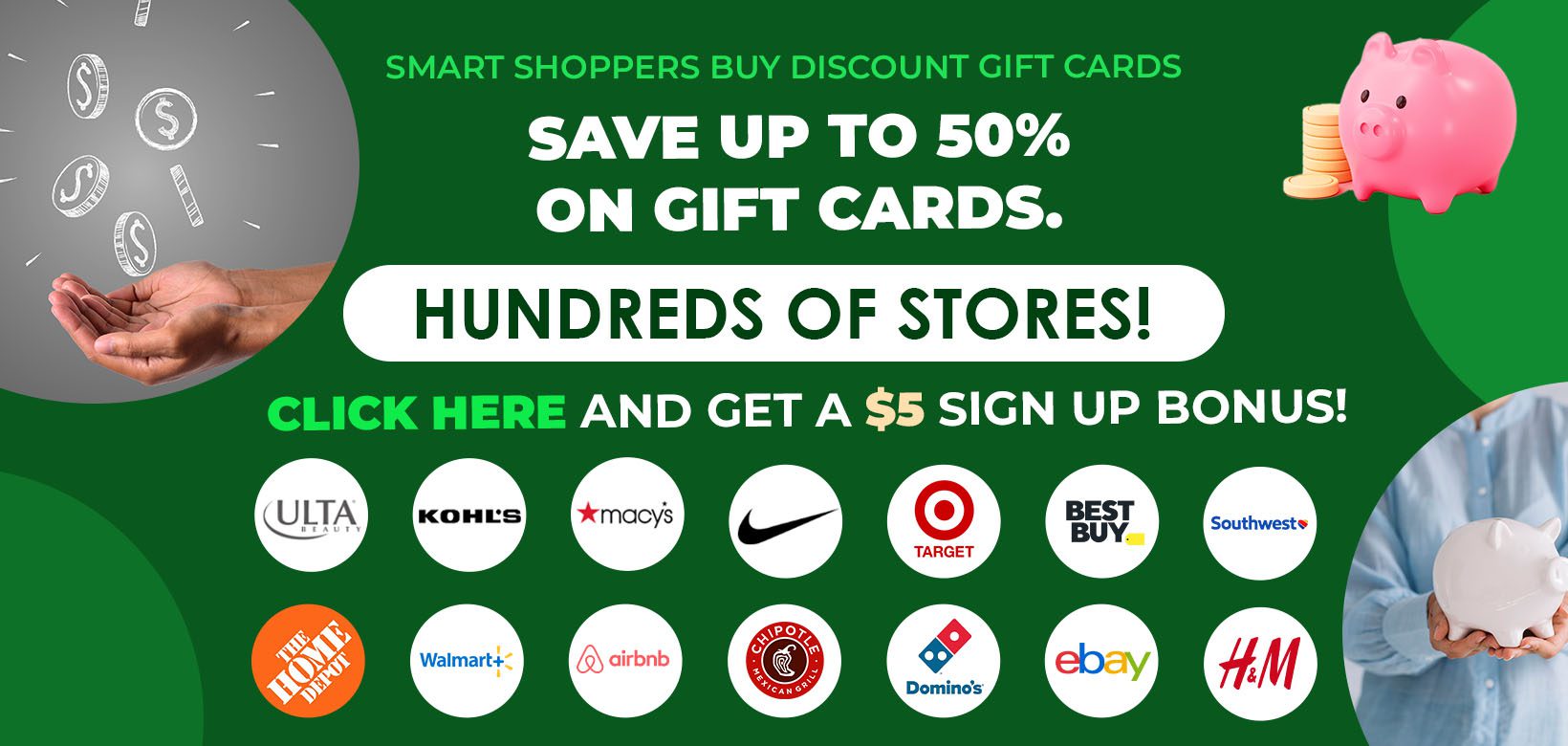 Food Lion is a grocery store chain found in the southeastern and Mid-Atlantic United States. It operates more than 1,000 stores in 10 states.
Food Lion offers a variety of items, including produce, meat, seafood, bakery items, and household goods. In addition to groceries, Food Lion also provides pharmacy services and gas stations at some locations. 
Gift Cards at Food Lion List
Food Lion has a great selection of gift cards that fit any budget. Food Lion has you covered whether you're looking for a restaurant, movie theater, or grocery store gift card.
Here's a list of Food Lion gift cards sold in-store:
Dine-In and Fast Food Restaurants
Applebee's
Bob Evans
Bonefish Grill
Boston Market
Buffalo Wild Wings
Carrabba's Italian Grill
Cheddar's Scratch Kitchen
The Cheesecake Factory
Chili's
Chipotle
Chuck E. Cheese
Coldstone Creamery
Dine Together
Dairy Queen
Dining Out
Firehouse Subs
Fleming's Prime Steakhouse
Hooters
IHOP
Jersey Mike's
Krispy Kreme
LongHorn Steakhouse
Macaroni Grill
Maggiano's
Olive Garden
On The Border
Outback Steakhouse
Panera Bread
P.F. Chang's
Red Lobster
Red Robin
Ruby Tuesday
TGI Fridays
Yard House
Zaxby's
Retail
American Eagle
Banana Republic
Barnes & Noble
Bed Bath & Beyond
Belk
Cabela's
Carter's
Dick's Sporting Goods
Food Lion
Foot Locker
Forever 21
Gap
Harley Davidson
Hollister
Kohl's
HomeGoods
JCPenney
LL Bean
Marshalls
Michael's
Nike
Old Navy
Overstock
Sephora
Spa Finder
Talbots
Target
T.J. Maxx
Under Armor
Wayfair
West Elm
William Sonoma
Home Improvement Stores
Online Retailers
Gas Station
Prepaid Debit Cards
Each prepaid debit card has an activation fee of up to $6 to pay the retailers, processors, and program managers.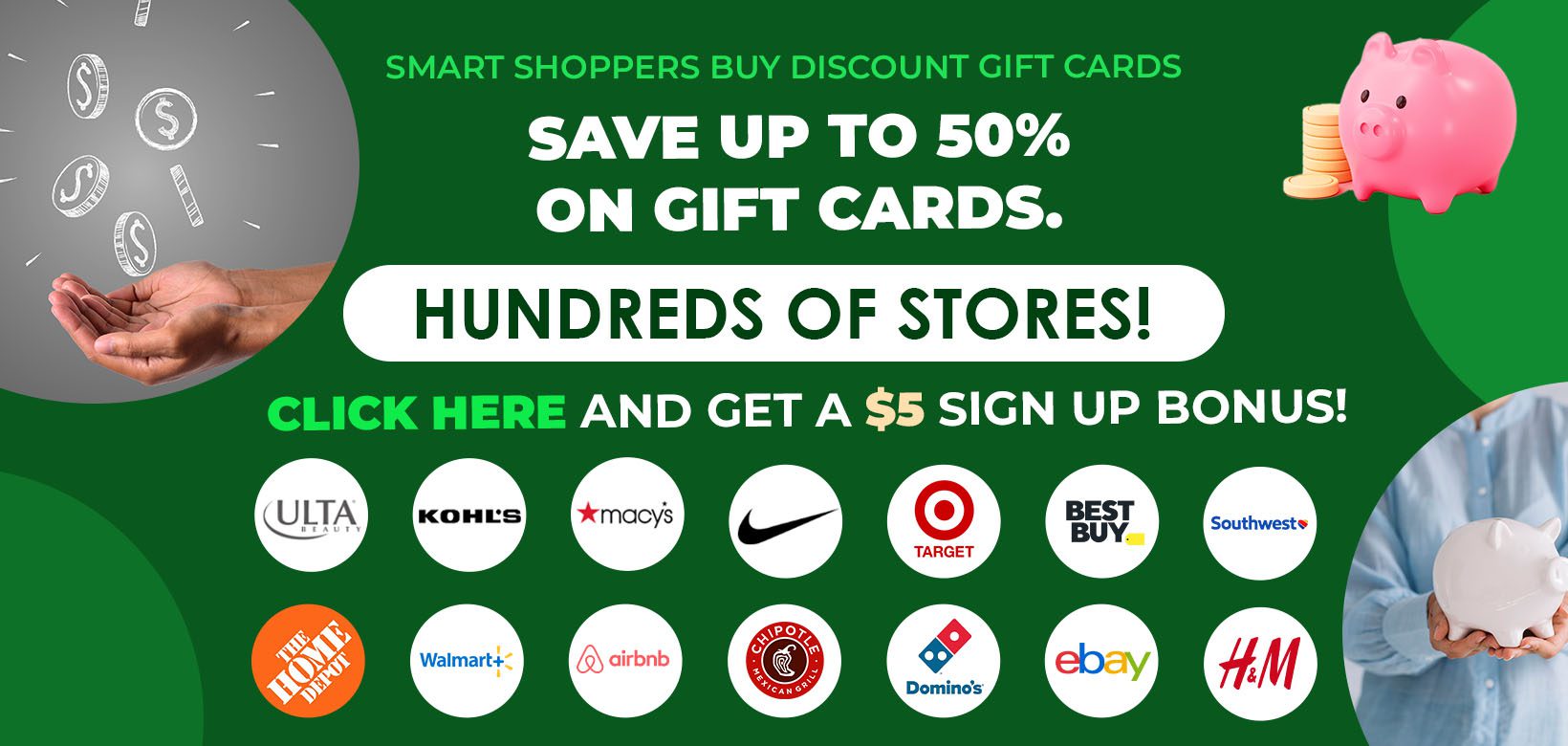 American Express gift card
Greendot Cash Back Visa Debit Card
Greendot Prepaid Visa
Mastercard
MoneyPak
Net10
Netspend Prepaid Visa Card
Paypal Prepaid Mastercard
Reloadit
Visa
Movie Theaters & Entertainment
AMC Theatres
Dinner & A Movie
Fandango
HBO Now
Netflix
Regal Theaters
Spotify Premium
Gaming
Apple App Store
GameStop
Google Play
Roblox
Xbox
Xbox Live
Telecom
AT&T Prepaid
Boost Mobile
T-Mobile
Tracfone
Verizon
Travel
Airbnb
Carnival Cruise
Delta
Disney
Fuel Everywhere
Jiffy Lube
Shell
Southwest
Uber
Uber Eats
How To Buy a Food Lion e-Gift Card?
Food Lion eGift cards are only available online or over the phone.
Phone
Call the Food Lion gift card customer support team at (800) 811-1748. The gift card sales department is open Monday through Friday from 8:00 am to 5:00 pm.
Online
You can buy Food Lion eGift cards on its website by following these steps:
Go to the FoodLion.com.
Click on the "Gift Cards" page. You'll see the option to purchase an e-gift card.
Choose a custom design and the denomination of the gift card.
Enter the recipient's email address. 
You can also add a personalized message if you'd like. 
Click "Add to Cart" to complete your purchase. 
Shipping is free for standard orders.
Food Lion eGift cards do not have to be printed. Instead, they can be scanned at checkout using your smart device from the email confirmation.
That's all there is to it! Your loved ones can enjoy all their favorite foods from one of America's top grocery stores with a Food Lion eGift card.
How To Check Food Lion Cards Balance?
It's easy to check the Food Lion gift card balance. You can do it online or by calling the customer service number on the back of your card. You can also check your balance in-store at any cash register.
In-Store
Find your nearest Food Lion in town on its website.
Ask the in-store cashier to check your gift card balance.
Online
Go to the Food Lion website to check your balance.
Enter your gift card number.
Enter your PIN number.
Check the "I'm not a robot" box.
Click on "Check Balance."
Phone
You can also do a Food Lion gift card balance check by calling toll-free at (800) 811-1748.
Can I Redeem a Food Lion Gift Card for Cash?
No, you cannot redeem a Food Lion Gift Card for cash; the funds can only be used toward a purchase at any of its 24-hour grocery stores open now. However, there are many other ways to use your Food Lion gift card, including groceries, a bag of crushed ice, cheesecloth, pizza, Sunday newspaper, SodaStream carbonator refill, 00 flour, alcohol, meal delivery kits, and more.
Additionally, you can also sell your gift card for cash on a third-party website. So if you're looking to get rid of your Food Lion gift card, there are several options available.
Do Food Lion Gift Cards Expire?
No, Food Lion gift cards do not expire. As a result, you can use them whenever you want and at any of its grocery store locations.
Does Instacart Take Food Lion Gift Cards?
No, Food Lion gift cards cannot be used on Instacart. The types of payment accepted at Instacart include EBT cards, credit cards, debit cards, PayPal, Google Pay, and Apple Pay.
See our guide on Instacart paying for gas and hourly wage.
Can I Get Cash Back from my Food Lion Gift Card?
No, you cannot get cash back from your Food Lion gift card. However, it's a grocery store with the most cash back on a debit card.
Does Food Lion Sell Amazon Gift Cards?
Yes, Food Lion has Amazon gift cards for sale. The Food Lion gift card rack sells them in various denominations for small and large gifts.
Does Food Lion Sell Visa Gift Cards?
Yes, you can buy a Visa gift card at any Food Lion grocery store. It can be purchased in various denominations near the checkout or gift card rack.
Does Food Lion Sell Chick-fil-A Gift Cards?
No, you can't buy Chick-fil-A gift cards at Food Lion grocery stores. However, you can buy a Chick-fil-A gift card in multiple denominations at Amazon, Target,  and Walmart.
Does Food Lion Sell Target Gift Cards?
Yes, you can buy a Target gift card at any Food Lion store. You can find them near the checkout or gift card rack.
Does Food Lion Sell Home Depot Gift Cards?
Yes, you can buy a Home Depot gift card at any Food Lion store. You can purchase it near the checkout or gift card rack in multiple denominations.
What Gift Cards Are Not Available at Food Lion?
Food Lion sells various third-party gift cards online and in-store for different retailers and services.
However, there are a few retail gift cards that Food Lion does not sell, including:
Cinemark Theaters
Crate and Barrel 
Baskin Robbins
Chick-fil-A
Claire's
Darden Restaurants
Dillard's
Express
Fleet Farm
Golden Corral
Golfnow
H&M
Hobby Lobby ( See the list of stores you can get Hobby Lobby gift cards)
Journeys
Justice
Kohl's
Lids
Lululemon
Meijer
Nordstrom
Nutrisystem
Panda Express
Papa John's
PayPal MyCash ($3.95 fee)
Pizza Hut
QVC
Ross
Shutterfly
Speedway
Gift Cards Sold at Food Lion Summary
Food Lion gift cards are the perfect way to show your appreciation for someone special. It sells several third-party gift cards for fast food restaurants, retailers, gaming, and services in multiple denominations at all its grocery stores.