The gifting culture is on the rise. According to BDO.com, 93% of Americans purchase or receive a gift card every year. Two-thirds of US consumers report having purchased at least one gift card.
Gift cards come in handy during the holidays. Unlike cash that looks too simple because of everyday use, gift cards help raise the holiday spirit and let you personalize it a bit. Sometimes you want to send a holiday gift to a friend, colleague, or relative, but you don't know exactly what will amaze them. Sending them a gift card gives them the liberty to purchase what they want.
The question is: What gift cards does CVS carry?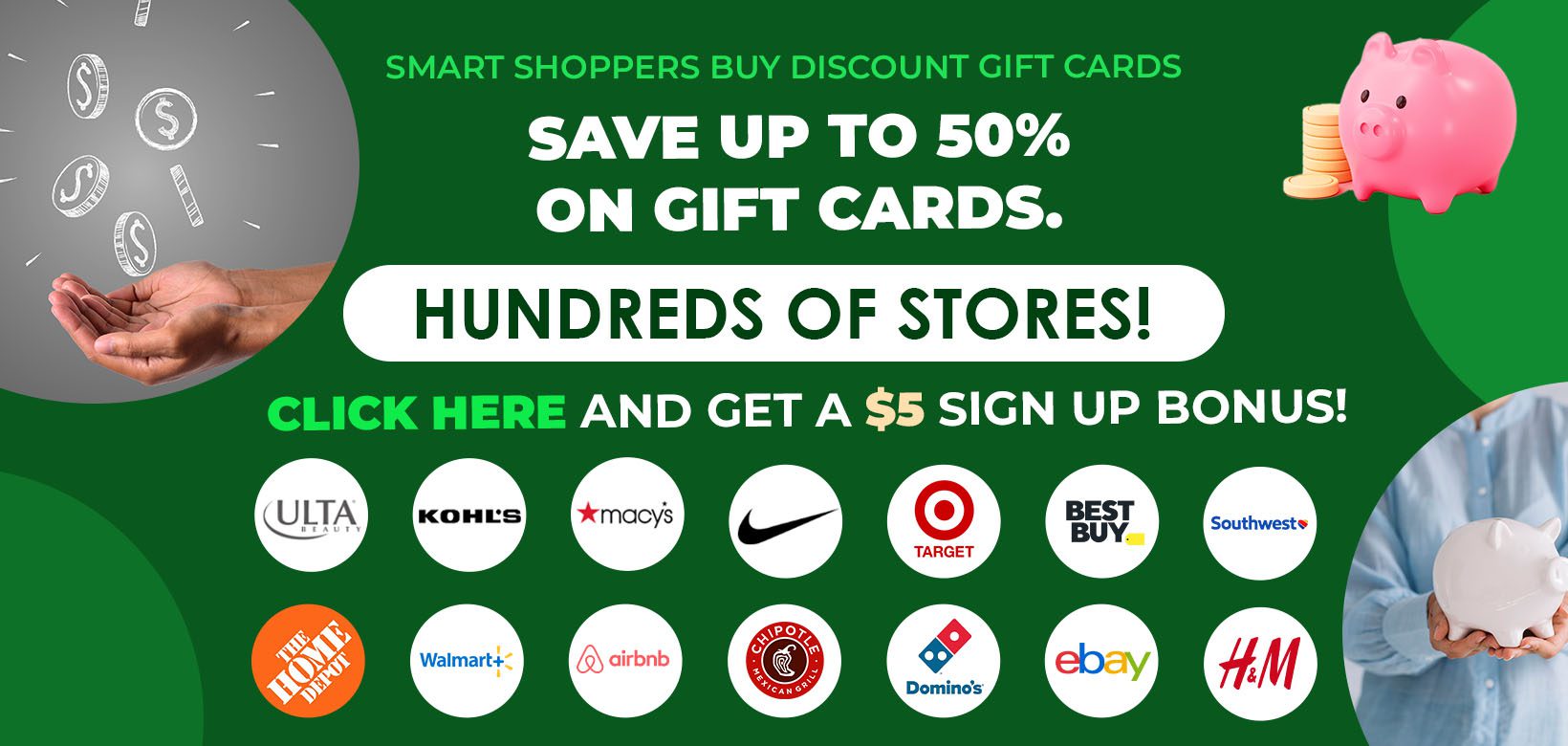 Fast Answer: CVS is a great one-stop-shop where you can buy a large selection of gift cards. The pharmacy retailer carries third-party gift card brands from clothing stores, department stores, electronics, sporting goods, travel, restaurants, home repair & furnishing, as well as Visa and American Express prepaid gift cards.
Third-party gift cards aren't available online and can only be purchased in-store. Mostly, you'll find CVS gift card deals at the card rack near the checkout register or an endcap. Some other stores tuck them in the back rows, especially between holidays.
You won't incur any additional fees for purchasing gift cards for different retailers at CVS. But reloadable gift cards or prepaid cards like Visa and American Express gift cards come with a small activation fee.
For instance, the Vanilla Visa Gift Card carries an activation fee of $6, while the Green Dot Prepaid Mastercard has a $2 activation fee. The cards are loadable for values between $25 and $500 and are good options if you can't find a specific gift card for a retailer that'll amaze your recipient.
That said, in-store CVS gift card selection varies from location to location. If you want to purchase a gift card from a specific retailer, consider calling your local CVS store ahead of time to confirm availability.
Why is CVS a Good Place to Buy Gift Cards?
One of the best places to purchase gift cards is the Consumer Value Store (CVS) because of its wide selection. Being the largest pharmacy chain in the US, CVS stores are almost everywhere. With nearly 10,000 stores spread across 50 states, you're likely to find a local CVS location.
Besides, CVS offers a lot of convenience to customers who visit the stores to purchase prescription medicine. For instance, you get some of the cheapest foods to buy on a budget at CVS stores without making an extra trip to the grocery store and get cashback up to $35 per transaction on debit purchases. 
All CVS stores also accept EBT as a payment method for SNAP-eligible products, along with money on Reliacard. That means you can buy protein bars and shakes with an EBT card.
While you can't cash personal checks or third-party checks, you buy MoneyGram money orders at CVS, make cheap photocopies, buy stamps, a Coinstar machine near my location, and get fax services. 
You see! There's no shortage of services at CVS during a single errand. Thus, buying gift cards at CVS is a great way to save time and money on gas when shopping for prescription drugs or groceries.
How To Save Money with Gift Cards?
Gift cards are a great alternative to cash, and debit and credit cards with chips. When trying to steer clear of credit card debt, you can load money onto a gift card, like the American Express Gift Card, and use it to make purchases anywhere the card is accepted. But, again, unlike debit cards that can subject you to overdraft fees, you won't be liable for any added fees with gift cards.
Here's a list of 5 ways to save money with gift cards:
Use Your Gift Cards
One of the ways to save money with gift cards is to make sure that you use them as soon as you can. According to the Merchant Advisory Group, about $3 billion in gift card dollars goes unused each year. Again, about 20% of gift card balances remain unredeemed. 
Gift cards expire. If you let them sit too long, they become useless or lose value as prices rise. Also, during COVID, we saw many retailers and restaurants go out of business, leaving your gift card worthless.
You can try asking the merchants to exchange the remaining gift card balance for cash.
See our guide on how frugal consumers can save $10,000 a year with little effort.
Sell Unwanted Gift Cards
Another way to save money on gift cards is to sell them before they expire. For example, if you receive gift cards from stores you don't shop, or for airlines, you don't travel, you can convert your gift cards to cash and save that money. It's one of the easiest things to flip for a profit.
Sites like Raise, Gift Card Granny, Cardcash.com, and GiftCash are good places to sell gift cards for cash online. You'll get up to 92% of the original price, which is better than letting funds expire.
See our guide on the eight best ways to sell gift cards for cash near me & online.
Buy Gift Cards at a Discount
Buying gift cards at a discount is an excellent hack for frugal consumers. It's even better for big-ticket items during the scheduled Pottery Barn Sale for their coveted furniture and home goods.
Raise is a great place to buy gift cards at a discount. You can find gift cards selling at 10%-30% less than the original gift card price. That's a great way to save money fast!
As of this writing, a CVS Store gift card is being sold for a 10% discount with digital delivery; in many cases, the card is delivered instantly. Here's a sample of discounted gift cards as of this writing:
Chili's – up to 13% discount
Buffalo Wild Wings – up to 7.7% discount
Chipotle – up to 11.2% discount
Build-A-Bear – up to 28% discount
Fandango – up to 16.2% discount
Regal Cinemas – up to 14.5% discount
Old Navy – up to 14.3% discount
Try Raise.com to buy a discount gift card. Use our Raise link to save $5 on your first purchase. 
Take Advantage of Promotions
Take advantage of holiday offers to save money on gift cards. The promotions come in the form of "buy $100 in gift cards and receive a $20 bonus on your next grocery trip." It can help you meet your future shopping needs and realize immediate savings.
What is the CVS Gift Card Selection?
The CVS gift card selection for retailers includes airlines, clothing, electronics, fast food, gas stations, home improvement, movie theaters, online gaming, prepaid debit cards, phone calling cards, and sporting goods stores.
Airlines
Retail Stores
Bloomingdale's
Burlington
JCPenney
Kohl's
Macy's
Marshalls
Nordstrom
Saks Fifth Avenue
Sears
T.J. Maxx
Baby and Kids Retail Stores
Baby Gap
Babies 'R' Us
Build-A-Bear Workshop
Buybuy BABY
Gymboree
Clothing Stores
Aeropostale
American Eagle
Athleta
Banana Republic
The Children's Place
DSW
Express
Forever 21
Gap
Hollister
Lane Bryant
L.L. Bean
Old Navy
Urban Outfitters
Electronic Stores
Dine-In and Fast Food Restaurants
Applebee's
Buffalo Wild Wings
Burger King
The Cheesecake Factory
Chili's
Chipotle
Chuck E. Cheese
Cracker Barrel
Darden Restaurants
Domino's
Dunkin'
IHOP
Longhorn Steakhouse
Maggiano's Little Italy
Olive Garden
On the Border
Outback
Panera Bread
P.F. Chang's
Red Lobster
Romano's Macaroni Grill
Starbucks
Subway
Taco Bell
TGI Fridays
Gas Stations
Home Improvement Stores
Home Furnishings Stores
Bed Bath & Beyond
Crate & Barrel
HomeGoods
Pottery Barn
Online Retailers
Miscellaneous Stores
Barnes & Noble
CVS
Claire's
Disney
Massage Envy
Netflix
Sephora
Spa Week
Tractor Supply Co.
Uber
Whole Foods
Movie Theaters
Online Gaming
Animal Jam
Blizzard Entertainment
Facebook Games Card
GameStop
Google Play
iTunes
Karma Koin
Nintendo eShop
Playstation Store
Roblox
Xbox Live
Prepaid Debit Cards
Prepaid debit cards have an activation fee to pay money to third parties like retailers, processors, and program managers.
American Express Gift Card ($3.95 fee)
Green Dot Cash Back Visa Debit Card ($2 fee)
Green Dot Prepaid Mastercard (up to $4.95 fee)
Green Dot Reloadable Prepaid Visa Card ($5.95 fee)
MoneyPak ($5.95 fee)
Netspend Visa Prepaid Card ($4.95 fee)
OneVanilla Prepaid Visa Card ($4.95 fee)
PayPal MyCash ($3.95 fee)
Vanilla Visa Gift Card ($4.95 fee)
Prepaid Phone Cards & Wireless Plans
Boss Revolution
PennyTalk
U.S. One Rate Prepaid Phone Card
Sporting Goods Stores
Bass Pro Shops
Cabela's
Nike
Does CVS Carry Target Gift Cards?
Yes, select CVS stores sell Target gift cards. The gift card selection will vary by location but can be in denominations, including $25, $50, $100, or multipacks.
Can You Buy Gift Cards at CVS Online?
You can only purchase gift cards for CVS on its website. Otherwise, you'll need to go to a CVS store to buy gift cards for other retailers and stores.
How To Save Money on CVS Pharmacy Store Gift Cards?
The easiest way to save money on CVS pharmacy store gift cards is to buy in bulk. Through its corporate partnership program, CVS offers discounts for bulk gift card purchases over $500.
Contact CVS if you want to purchase gift cards in bulk at a discount for business or personal use.
See our guide on what happens when your debit card expires.
How to Get CVS Rewards When Buying Gift Cards?
CVS has a rewards program that you can take advantage of when buying gift cards. Participants get regular coupons, plus Extra Bucks or Beauty Bucks with each purchase. Extra Bucks can be redeemed for any purchases at the CVS store, while Beauty Bucks are eligible for beauty-related products.
From time to time, you'll receive ExtraBucks for purchasing certain gift cards during specified periods. The CVS rewards program is good for you if you buy gifts at CVS regularly. Register for the program at CVS.com to take advantage of this offer.
Save more money by using the best online coupon sites for digital and printable savings.
Buy Gift Cards at CVS Summary
CVS has a wide selection in-store, whether you want to buy a gift card for your own use or want to go on a gifting spree during the holidays. You won't incur any additional fees buying third-party gift cards at CVS. However, loadable gift cards and prepaid cards from Visa, Mastercard, and American Express carry an activation fee of $2-$6.
Only CVS gift cards can be bought online. Gift cards from third-party retailers sold at CVS can only be bought in-store. Also, CVS doesn't sell gift cards for Walgreens or Rite Aid, its top competitors.
To save money on gift cards, buy or sell discounted gift cards from sites like Raise (Use our link to save $5 on your first purchase.)
You can also take advantage of CVS's bulk purchase offer to get discounts for gift card purchases above $500. If you plan on buying gift cards from CVS regularly, take advantage of the CVS rewards program to receive coupon codes and earn bucks with every purchase.
Consider calling ahead of time to confirm availability before making the trip. Alternatively, you can purchase one of the open-loop Mastercard, Amex, or Visa gift cards that can be used across different stores.
Find a nearby CVS 24-hour pharmacy store open for your convenience for things like buying discount diapers.