The cheapest and closest notaries nearby are likely your bank, The UPS Store, and the local library, but that may not be an option during COVID-19.
Coronavirus has disrupted and changed the real estate and legal document industries. Historically, finding easy ways to get cheap or free notary has been easy. This is traditionally done in person at a place of business.
A notary public witnesses and verifies that the person signing the document is who they say they are and not being forced to sign. Once signed, then a seal is affixed to the paperwork. But, some real estate closings are using a virtual notary while stay at home is in place.
Some states accept remote online notarization service and electronic signatures while others do not. Our guide discusses places to get a notary nearby as people feel more comfortable and places to get a virtual or mobile notary public 24 hours a day.
Cheap is a great option, but we have a long list with many free, convenient options available nearby. By being a frugal consumer, you can save a lot of money if you need multiple signatures and stamps.
Reasons To Notarize
Affidavits
Car title transfers
Contracts
Deeds
Healthcare directives and medical documents
Legal documents
Living will
Passport applications for minors
Permission slips for minors
Power of attorney
Trusts
Vehicle titles in some states
Wills
5 Important Criteria of Choosing a Good Notary
If you've never hired a notary to get your documents verified before, you might need a little help choosing a good notary. So here's a list of the five things you need to keep in mind while choosing a notary.
1. Authorization
You first need to check if the notary you've selected is legally authorized to work as a notary and if their stamp is legal. After all, there's no use in getting your document notarized if the stamp isn't legit. The exact technique of finding the authenticity of the stamp will vary from state to state.
However, close inspection of the stamp will give away the truth. A legal notary stamp should contain their name, date of commission, and the date when the commission expires. If the stamp doesn't include this information, then you're probably getting scammed.
2. Association Membership
Just like most other professions, notaries have associations. If you're hoping for a pleasant experience, hiring a notary associated with these professional organizations will be good.
These associations have high selection standards for the admission of new candidates. They'll help you narrow down the search for a suitable notary by filtering out the unworthy candidates.
They believe in collective responsibility, which means the members of these associations must carry their business abiding by a set of common rules. This curbs unruly behavior among notaries and stops them from exploiting their power.
3. Fees
Before you approach a notary, it's essential to check their fees and see if it suits your budget. Most states have a limit on how much they can charge for their service. You can access this information from the Secretary of State's Website.
However, you need to remember that this limit isn't binding on the total fees charged by notaries. They're allowed to charge a little extra for " convenience fees", which increase with their service's flexibility. Generally, they charge $50-$150 in convenience fees.
4. Qualification
When you're paying for their service, you have the right to cross-check their qualifications and ensure that you're putting your money in the right hands. Generally, most notaries display their qualifications on their websites or business cards for the convenience of their customers.
Also, if you require notarization of critical legal documents, it's best to opt for notary lawyers instead of public notaries. This will diminish the chances of mistakes and facilitate a smooth service.
5. Location
In this digitally-driven world, it's natural that your first instinct to find a good notary will be to research online. However, when you're researching online, you need to be careful of the notary's location. Although you can get your document notarized online, not every state allows that.
You'll need to pay a couple of visits to the notary's office for your document to be notarized. That's why you need to choose a local notary to save your time, effort, and travel expense.
Error Review – Review the documents ahead of the signing for errors, like spelling.
Parties Present – All signers must be present during the signing. Make sure all people are present and have the required identification if the document notarized requires more than one signature.
Mark the page – Mark the pages to notarize if it's a large document. It's frustrating to miss one page and the need to reschedule a subsequent signing.
Know the document – Know the type of document you are notarizing before signing
Don't sign in advance – Do not sign the paperwork ahead of time. It's a legal document that must be signed and witnessed in the presence of the notary.
Forms of ID for Notary Required
Each state has different notary ID requirements needed, but here are the typical forms accepted:
A government-issued ID with a signature, photo, and physical description of the person
Valid state-issued driver's license
State-issued ID card
Military ID
U.S. passport
Does It Cost Money To Get Something Notarized?
Notary public costs range from $2 to $10 when charged a fee. Though, no one is required to charge you a fee. We have a long list of free notary services near most people in the U.S.
Notary Fees by State
Notary fees by state have set limits for the amount charged in most states. Only a few states do not have a set limit.
A notary public will be subject to a state's disciplinary authority if they charge over the maximum allowed by a state. Overcharging for notary public services in some states carries criminal and civil liability.
State Maximum Notary Fees Allowed For Common Acts –

Interactive Map
Notary Places Near Me
1. Virtual Notary
More companies are now offering electronic notary services. Most states were not accepting a virtual notarization before the Coronavirus but have changed starting in 2020. States have taken emergency action on virtual notarization and signers ID to make more online notaries legal.
Remote Online Notarization Process
A remote online Notarization service ("RON") is conducted via remote audio-visual conference call. The process is as follows:
Proof of Identity – The signing party must prove their identity, which differs by state.
Answer questions – Answer personal questions as proof of identity.
Show Valid ID – ID must be examined and verified by third-party validation service, which varies by state.
Witness signature – Sign the document with a digital signature while the virtual notary witnesses it online.
Online notary stamp – Online notary service will affix an electronic seal
Remote Notary States
National Notary Association created an informative map of the U.S., showing the changes taking the place of the virtual notarization during COVID-19 Emergency. Check here for state updates.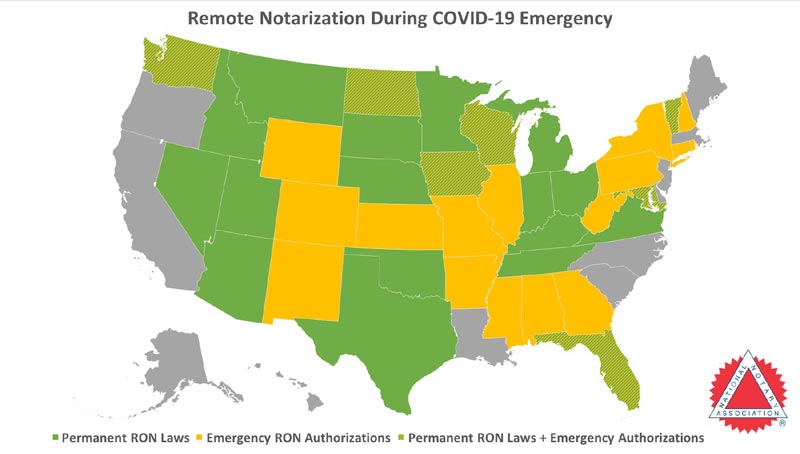 Virtual Notary Cost
Electronic notary services are more expensive than visiting someone nearby. A single virtual notary document costs between $25-$100 and an additional $10 or more per seal. Though a remote notary isn't cheap, you may not have a choice if your state has a shelter in place or under quarantine.
In the era of the Coronavirus and the states easing the rules, you can connect with a notary anywhere and without physically needing to visit them in person.
2. Place of Work
Many employers like having a notary on staff. There is a high likelihood large employers have at least one or several within the organization. An employer may request an employee to become a notary as an added service or convenience at places like banks, financial institutions, law firms, post offices, shipping centers, and more.
A staff member can be a notary public for an employer but cannot benefit from the transaction with additional compensation and benefits.
3. AAA
Many of the 1,100 AAA branches in the US and Canada offer free notary services as a membership benefit or for a reduced fee.
There are 27 regional clubs in the U.S. and 8 in Canada.
AAA Notary Services Cost
The price varies by the region of the AAA branch. For example:
AAA notary signing services in Southern California
AAA Classic members: $4 service fee
AAA Plus members: $3 service fee
AAA Premier members: Free notary services up to 10 signatures per day and $3 per additional signature
AAA notary signing services in Northern California
AAA members: $10 per signature regardless of membership type
Non-members: $15 per signature
AAA notary signing services in Northeast offices
Free for all AAA memberships
Call your nearest AAA notary to check availability and pricing. The local notary public employee may be out of the office or at lunch.
AAA Weekend Notary
Select branches have notary public services on Saturday while you'll be hard-pressed to find a location open on Sunday. For example, some East Central AAA branches are open on Saturdays while the location near me in the Chicago suburbs is closed.
4. College Campuses
There is a high likelihood your attending college and university will provide free notary services to students, teachers, and staff. Check the campus website or your college advisor since it's probably not advertised. The financial services office and the library are the likely places to get notarized on campus.
5. Public Library
Your local public library many times, offers free or cheap notary public services. According to the American Library Association, there are over 9,000 public libraries in the U.S.
Call your library and ask the following questions:
Ask if they are a place that notarizes documents
Do you need to be a library cardholder at that location
Notary services cost for members and non-members. It likely costs between free to $2-$5 per signature.
Availability – weekdays, weekends, lunchtime, etc
The public library is potentially a great place to get a notary on the weekend since many are open seven days a week. See our related article on the benefits of owning and using your local library card services.
6. Local Government Offices
Most local government offices will have a notary public on staff for their documents.
Types of local government include:
City hall
Courthouse
School districts
Special districts (i.e., park district)
The notary public fees will likely be minimal to use their services. Call your local government offices to check availability and fees for the stamp and signature.
7. Banks and Credit Unions
Many local banks and credit unions offer free notary services to their customers. Full-service banks need staff members to notarize mortgage documents and other legal paperwork.
A local credit union and bank is more likely to free notary services as a customer perk and standout from some of the large national banks. Non-members of the bank will have to pay. Some banks require making an appointment before coming in.
If it's a small local bank or credit union, they may have a free checking account option, which then allows you access to free notary service. It especially makes sense if you'll regularly need this service or have a large document with several stamps required.
We have a list of 14 banks that have cheap or free notary services nearby.
Which banks offer free notary services?
8. Law Office
Law offices regularly prepare documents like deeds, wills, trusts, contracts, and small estate affidavits that require notary public signatures and stamps. There is a high likelihood they have one or several staff members who are notary publics for internal and client use.
It will be a free service to you if you're already a client of the firm.
9. Insurance Agents and Brokers
Chances are you have insurance. You likely have an insurance agent or broker for your property or auto insurance. You can ask your local insurance agent if they have a notary for documents in their office. Although it's not a common request, I'm sure they'd be happy to help a client with a couple of stamp seals and signatures.
10. Accountant or Tax Preparer
It's common for an accounting office to have someone on staff that notarizes documents on behalf of the firm and the clients. Many accounting firms do more than just tax preparing and offer additional services that can require a notary public. Other services CPAs provide include:
Bookkeeping
Payroll administrators
Forensic accounting
Litigation services
Long-term financial planners and advisors
Tax filing
Your accountant and tax preparer is potentially an excellent place for free notary services nearby.
11. Real Estate Agencies
Real estate agencies are unsuspecting places that notarize documents nearby. It's almost required given all the deeds and titles they process for the real estate transactions. According to the National Association of Realtors 2018 report, there were over 1.3 million realtors in the United States, with over 1,100 local associations.
It is highly unlikely they will charge you for a couple of signatures. Most offices try to sponsor free community events like paper shredding or parade sponsorships. A real estate office is a great place to find free notary services near me.
Also, there is a chance the local office will have some limited hours on a Saturday.
Call one of your real estate friends or the local real estate office to inquire.
12. Currency Exchange
Currency exchanges have assisted residents in your local community with a variety of financial needs for decades. In my home state of Illinois alone, there are hundreds of currency exchanges that offer the following services at select locations:
ATM services
Check to cash
Currency exchange
Debit card upload
Electronic bill payment
Gift card sales
Money orders – sell over 20 million money orders per year
Notary services nearby
Vehicle licensing services – title transfers, vehicle stickers, plates
Wire transfer – MoneyGram or Western Union
You should Google "currency exchange near me" to find a location. You can also add in things like "open now" or "open on weekends" or "notary services."
Call ahead to confirm someone is on staff before you drive over.
13. The UPS Store
The UPS Store center is a great choice when searching for the nearest notary with more than 4,800 locations in the U.S. They can make made additional copies, fax, and ship if necessary once they notarize your documents. The UPS Store is a convenient one-stop-shop.
You can schedule an appointment online at more than 3,800 locations to notarize your document.
AARP notary discount
AARP doesn't offer notary discounts but recommends you use The UPS Store at one of their nationwide locations.
The UPS Store notary near me is open on Saturday to schedule an appointment now.
14. Police Station
Depending on the size, many police stations will offer notary public services to their community for a small fee. It's worth calling your non-emergency number or looking on their website to see if they provide that service for their citizens.
15. Organizations
If you belong or volunteer to a local organization, then check to see if any of the members are notaries. The organizations may offer the service as value-added as part of the membership, or one of the members will likely provide as a courtesy.
Examples of organizations include:
Community – neighborhood, Habitat for Humanity
Voluntary associations – Food banks
Business – Rotary, SBA
Education – PTA, teacher's pension
16. Ask a Friend
If any of your friends regularly deals with documents or works at a legal or financial firm, then ask if they're a notary. Call your friend, family, or neighbor if they work for any of the careers listed on our list of free and cheap notaries.
17. Walmart
Some large Walmart's or Supercenters have banks or businesses within the store that offer notary signing services. Walmart's company stores do not provide that service themselves. Search for Woodforest National Bank locations within the Walmart stores here.
The Woodforest National Banks in the Walmarts near me are open seven days a week. You can request a notary on weekends by appointment. Sterling Advantage and Platinum Plus, customers receive free notary services at the bank. The locations near me are open six hours on Saturday and four hours on Sunday.
18. Car Dealership
It's common for someone in the financial department of a car dealership to be a notary public. A car dealer processes many financial documents daily. For example, in some states, the seller of a used car must sign and notarize the title transfer.
My local dealership offers free car washes and maintenance for up to 100,000 miles. Because of that, I am there often enough and know many of the service staff and car salespeople. I would have no problem asking if someone can notarize a document for me the next time I visit.
Your local car dealership is open on Saturday and potentially a good place to try if your bank is closed.
19. Hospitals
Typically hospitals and nursing homes don't have a designated notary public on staff but many times contract out and use a mobile service. Hospitals will bring someone in to notarize documents needing completion for daily business. In some cases, patients may use notary services to complete a will during their stay.
Call your local hospital's front desk or the business office and see if they offer notary services. In some cases, the mobile service may operate on Saturday's or Sunday's.
20. American Society of Notaries
Since 1965, the American Society of Notaries has been offering notary education courses. As a member, you also receive practice tips, law updates, online training courses, professional services, and cheap notary public supplies for purchase.
You can use their database by zip code to search where I can find a notary public near me?
Click here to see the closest signer.
21. Google Local Search
If all these other suggestions fail, then Google "notary public YOUR ZIP CODE."
Mobile Notary Public Near Me
Finding notary places near me in rural areas is more difficult than in urban and metropolitan areas. Consider mobile notary companies when you have documents needing service on weekends. You can schedule a mobile company to come to your house or place of business anytime, including Saturdays and Sundays.
A traveling notary is one of the few places you can hire a signing service that is open now to schedule an appointment.
Mobile notary fees
Mobile notary fees will likely cost more money than the state maximum to compensate the agent for their travel and time. Depending on the state, the agent will set their own fee or charge an additional fee based on miles traveled.
22. DocPros Nationwide Notaries
DocPros, since 2003, provides coast-to-coast notary public. They come to the signer's doorstep at a convenient time. DocPros has over 30,000 power of attorney notaries, signing agents, and attorneys in their database. They do background checks and keep detailed records and performance histories of their agents.
DocPros Nationwide hours include notaries nearby on Saturday and Sunday.
DocPros has an A rating from the Better Business Bureau.
23. National Signing Services Notary
Since 2008, NSS Notary has been a provider of third-party mobile notary services. They've completed hundreds of thousands of mobile notary services and signings in the U.S., Australia, and Canada. National Signing Services notarizes documents 365 days a year. https://www.nssnotary.com/
The NSS mobile notary public process:
Receive signing order
Schedule with a signing agent
Send documents to signing agent
Modifications and confirmations
Complete signing and verify
Pay invoice
National Signing Services has an A+ rating from the Better Business Bureau and one review.
Hours include private notary on weekends, including Sunday by appointment. Call to schedule a signing now.
24. Notaries 247
Notaries 247 is a national notary signing service that specializes in the mortgage industry for documents like escrow and title. The 247 attorneys or notary public will contact your borrower to select a time and location.
The types of notarizations include:
Affidavits
Auto – financing, title, transfer documents
VA loan documents
Land contracts
Loans – refinance, purchase, modification
Mortgage – conventional, jumbo, reverse
…and more
247 has a user-friendly website allowing files to be uploaded and mobile access to update and print documents.
247 Notaries has an A+ rating from the Better Business Bureau.
Hours include private notary on weekends, including Sunday by appointment.
25. Notaries To You
For over 25 years, Notaries To You is a full-service notary company. Their database includes over 10,000 qualified professionals nationwide. They provide 24-hour notary seven days a week and 365 days a year. A premium service offered is late night notary signings.
Benefits
Mobile Notary – travel to your desired destination
Knowledgeable – Understand the importance of accurately signed documents and efficiently
Foreign language – foreign language speaking agents upon request
Excellence – strive for excellent customer service.
Notaries To You has an A+ rating from the Better Business Bureau.
Hours include nearby Saturday and Sunday notaries by appointment.
26. Notary ASAP
Since 1998, Notary ASAP has over 1800 clients, over 600,000 completed signings for over $5 billion of loan documents. Their database has over 40,000 signing agents nationwide. ASAP is willing to help with last-minute needs and requests.
Benefits of using Notary ASAP:
Nationwide mobile notary public nearby
Same day service
Pickup and delivery
Skilled agents
A full-time notary public in Spanish staff member for overnight and digital documents
Overnight documents
Online tracking
$1 million Errors and Omissions insurance policy
Notary ASAP has a C rating from the Better Business Bureau.
Hours include private notary on weekends, including Sunday by appointment.
27. Prestige Notaries
Prestige Notaries has professional notary signing agents with flexible scheduling options. Prestige carries $2 million in professional Cyber Extortion Insurance and Errors & Omissions.
The types of notarization include:
Auto sale
Business contract
Cash deals
Certified copies
Estate – Estate planning, power of attorney, family law agreements
Financial documents
Loans – refinance, purchase, applications, disclosures
Medical records
Mortgages – conventional, reverse
Sell transactions
…and more
Notary ASAP has an A+ rating from the Better Business Bureau.
28. Sunshine Signing Connection
Sunshine Signing Connection has over 36,000 attorneys and agents nationwide. They offer 24-hour mobile notary seven days a week.
Benefits of using Sunshine:
Background checks – all their closers undergo background checks
Web-based software – upload documents and track your closings
24-hour notary public near me – closing 24/7 and 365 days a year
The types of notarization include:
Deeds
Loans
Mortgages
Power of attorney documents
Real estate documents
Structured settlements
…and more
Notary ASAP has an A+ rating from the Better Business Bureau.
You can hire a notary near me for Saturday and Sunday hours at Sunshine by appointment.
Hotels
Many business hotels offer affordable or free notary services for current hotel guests. You can also try contacting local hotels if you are a rewards member. For example, a Hilton is more likely to make an exception for a Hilton Diamond member. Here is a list of national hotels offering it as a service.
29. Disney Resort Notary Services
Disney Resorts hotels offer notary services for a fee in their Business Centers. The Disney World Business Centers charge $10 per seal and require a valid government-issued I.D. Business Centers are located at the following Disney hotels:
Disney's Yacht Club Resort Convention Center
Disney's Grand Floridian Resort Convention Center
Disney's Coronado Springs Resort Convention Center
Disney's Contemporary Resort Convention Center
Disney's BoardWalk Resort Convention Center
30. Hilton Hotels
At select Hilton hotels, they offer free notary services to guests. Hilton has a massive portfolio of hotel brands, including Hilton Hotels & Resorts, Waldorf Astoria, Conrad, Canopy, Curio, DoubleTree, LXR, Tapestry, Embassy, Hilton Garden, Hampton, Tru, Homewood Suites, Home2 Suites, Signia, and more.
I suggest Googling the hotel or calling ahead of your visit. Visit the front desk, business office, or the concierge for more details.
Find your nearest Hilton hotel here.
31. Marriott Hotels
At select Marriott hotels, they offer free notary services to guests. Marriott has an enormous portfolio of hotel brands including Aloft, Autograph Collection, Courtyard, Four Points, JW Marriott, Le MERIDIEN, Marriott Executive Apartments, Renaissance, Ritz-Carlton, Sheraton, St, Regis, The Luxury Collection, W Hotels, Westin, and more.
I suggest Googling the Marriott hotel or calling ahead of your visit. Visit the front desk, business office, or the concierge for more details.
Find your nearest Marriott branded hotels here.
32. Omni Hotels & Resorts
Omni Hotels & Resorts operates 60 properties in the U.S., Mexico, and Canada. The hotels have full-service business centers that vary by location. Many offer free notary public for guests, plus offer printing and secretarial services. Some of the Omni business centers are open 24 hours a day.
Find your nearest Omni Hotels & Resorts here.
Check Cashing Stores
Check-cashing stores are a great source to find a notarizer near me open now since many are open 24/7. They won't be free, or the cheapest place but can help you with last-minute documents.
33. Amscot
Established in 1989, Amscot has over 230 locations in Florida and is open 365 days a year. Around 20 locations are open 24/7. Each Amscot money store has a certified notary public on-site. It's a great place to try getting a notary on a Saturday or Sunday. In addition, they also offer check cashing, cash advances, make copies, wire money via Western Union, and international money orders.
Amscot Notary Cost
An Amscot notary costs $10 per stamp.
Find the nearest Amscot location open now.
34. USA Checks Cashed
USA Checks Cashed has 30 locations in Southern California. Services offered at most locations include DMV services, MoneyGram, check cashing, money orders, pre-paid debit cards, buy gift cards, postage stamps, lottery, ATM's, and foreign currency exchange.
Select USA Checks Cashed locations offer notary public services. It costs $15 per signature and stamp.
Available USA Checks Cashed notary locations nearby:
201 Broadway, Chula Vista
421 Broadway, San Diego
936 Highland Avenue, National City
1455 West Highland Avenue, San Bernardino
20226 US Highway 18, Apple Valley
All the USA Checks Cashed stores are open on Saturday. Many locations even offer notary services on Sunday.
Find the nearest USA Checks Cashed location open now.
International Notary Public
There are only a couple of international notary public options when traveling abroad. It's not impossible, but you'll find it challenging to find a service that is recognized in the United States.
35. U.S Embassy and Consulate
Any Consulate or U.S. Embassy, domestic or abroad, can provide similar notary public services like in the United States. A document can be notarized in a foreign country for use in the U.S.
You will need to contact them and make an appointment. Going to a Consulate or embassy while traveling will be the cheap notary public near me since it will be the only option.
Find the U.S. Consulates and Embassies country locator here with addresses and phone numbers.
36. Military Base
The military base legal office will offer free notary public service for free, both domestic and international. Depending on your military unit, they may have their own administrative office to serve you and your dependents.
The base will either have military personnel authorized by the federal government to notarize documents or outsourced civilian employees that work for the base. A federal notary does not have nationwide jurisdiction to notarize all documents throughout the U.S. Many can only notarize federal paperwork, and you'll want someone with a stamp if it's for personal documents like a will or deed.
Nearby Places to Get a Cheap or Free Notary Summary
There are several legit ways to get cheap or free notary services nearby. It is possible to get a document notarized on a Sunday and even easier on Saturdays but will cost more money. Assuming it's not the last minute, a frugal shopper should be able to find some close free options.
FAQs
Does FedEx have notary services near me?
No, FedEx Office, formerly known as Kinkos, does not provide notary services any longer. A former employee notarized a forged signature, which resulted in a legal case against FedEx. Because of that court case, there is not FedEx notary nearby. You must visit overnight delivery store competitors like The UPS Store or Mail Box Etc to notarize a document.
Can a notary notarize a document from another state?
Yes, a notary public is legally allowed to notarize documents from out of state. The signing must take place within the geographical boundaries of the notary public's state. As long as the notary is standing within the state lines, they can notarize a document from out of state or country. It does not matter what state the document was drafted.
Can you be a notary in multiple states?
A notary cannot hold a notary in two different states. They must resign from their current commission and apply in the new state.
What is a notarized affidavit?
A notarized affidavit is used as evidence in court as a written statement within a document from the affiant. The affiant signs the document acknowledging its intended purpose and understanding. It's a written statement signed under oath and the knowledge for penalty under perjury. The document is notarized once signed and becomes a sworn affidavit.
Are notary open on Sunday
Yes, there are notary services open on Sunday that range from local places to virtual or mobile options. Sunday signing service options include:
Mobile
Virtual
Check-cashing stores
Hotels
Libraries
Bank within Walmart
Friend or neighbor
Need a notary on weekends or Saturday?
There are even more places open on Saturday than Sunday to get documents notarized. Here are the options for a Saturday signing:
AAA
Banks and credit unions
Check-cashing stores
Hotels
Libraries
Neighbor or friend
Real estate agents
The UPS Store
Walmart bank
Mobile
Virtual
Closest notary near me
The closest notaries nearby are likely your bank, The UPS Store, and the local library.
Can a notary notarize a family member?
Yes, a notary public can notarize documents of his or her spouse, children, and other family members.
Can you notarize for yourself?
No, you cannot notarize your own signatures nor any transaction with their name as a participating party.
Is a notary republic the same as a notary public?
Yes, they are the same, but technically it's not "republic," and it's "public."