Surveys say that up to 20% of gift card balances remain unredeemed, while about 6% never even get used.
Hmmm, think about that. Why would so many people not use something that's prepaid and free?
Well, there are a lot of reasons. Even I've experienced some of these. I had found myself with gift cards that I was ecstatic to get. I mean, they are free after all. Some of the free gift cards were even from office party raffles.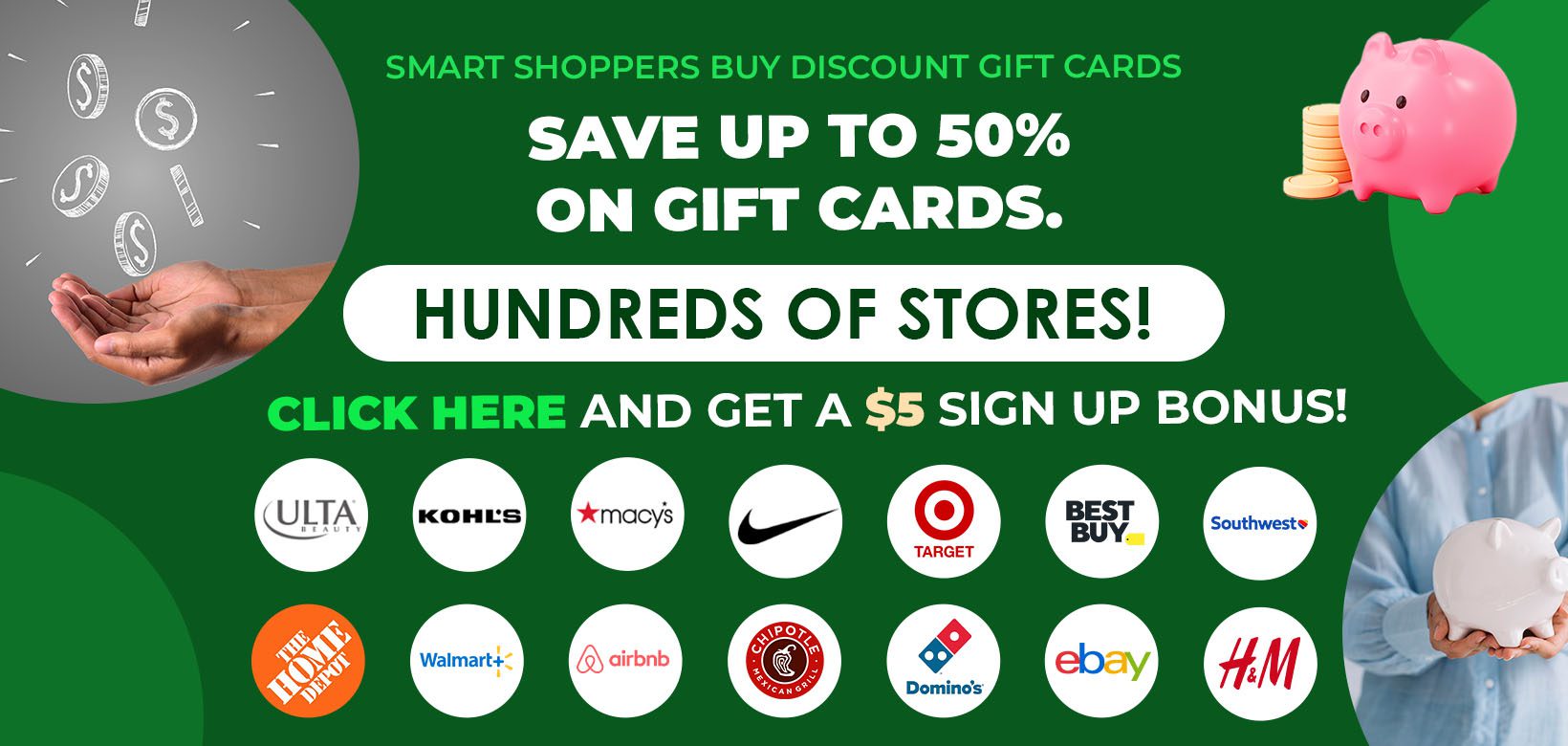 After the first haze of excitement was gone, I realized I don't shop or eat at many of these places. For example, I received a Lowe's gift card, but I don't have any stores near me.
Sure, I could give the specialty gift card to a friend, but the balance would help me buy something for myself. After all, didn't I win it?
Then, what about those travel gift cards for planes and hotels? Yeah, 30% off a Southwest discounted plane ticket sounds nice and all – but what if you can't travel during the pandemic?
So, thus this article was born.
How do I sell my gift card for cash online? Doing it online makes it more discreet and easier than bartering outside a store with a stranger.
What's the best way to sell my gift card for cash?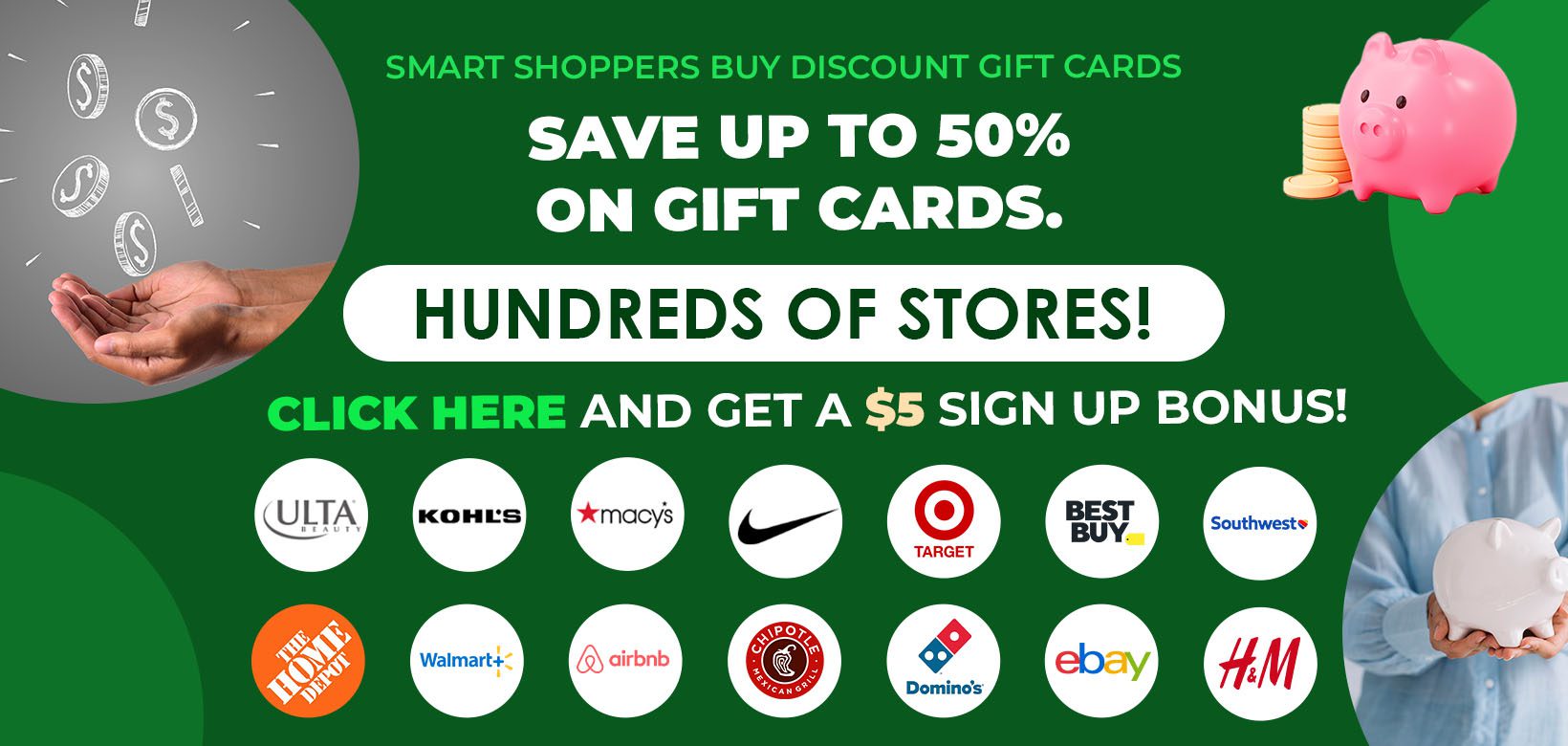 This article offers tips on how to convert your gift card to cash; maximize its resale value. If you cannot sell it for some reason, you have other options that can reward your heart more than your pocket.
Don't worry. Frugal Reality has researched it and will educate you on the best way.
What to know about selling gift cards?
Thankfully, reselling gift cards is not illegal. You have the right to resell your property.
Here are a few quick tips:
Partials work – You can sell a partially used gift card vs. a new one.
Trade – You can trade your gift card for another one. This way, you don't deal with a lot of fees. You and the seller actually get cards you want and will use.
Try online first – Sell digitally as much as possible so that you don't have to deal with the hassle of shipping costs.
Fast cash – There are sites where you'll get paid instantly for gift cards within an hour.
Can I sell a physical gift card online?
You can sell a physical gift card online. Some companies will determine if the physical card can be converted into an egift card or voucher, like Raise. You will need to ship your card if it cannot be digitally converted.
Best Places to Sell Gift Cards Online
Here are a few sites to consider if you want a place where you can sell your gift cards online.
1 . Raise
If you want to sell your cards quickly, you may want to visit Raise. The site is vast. It's my go-to, and I think it's one of the best places to sell gift cards electronically online.
Is Raise.com a legit site?
Yes, Raise is a legitimate site with thousands of brands and 3 million members. Since founded in 2013, they've done over $1.6 billion in transactions and saved members over $170 million. It has over 300,000 national retail stores that accept Raise as a form of online and in-store payment.
How fast can I get paid from Raise.com?
You can potentially sell your gift card in less than a day. Once your card is sold, Raise will send your money based on your selected payout method.
PayPal – It takes up to three business days for the money to be available in your verified PayPal account. Raise does require a $5 withdrawal minimum.
Direct deposit – The direct deposit time to hit can take up to three business days to appear in your bank account.
Business check – They'll send you a physical check to the address on the credit card you used to verify your account. Snail mail can take up to 14 days for delivery. It's the slowest and most costly payment method because Raise charges a flat $30 fee to mail a business check.
How much does Raise charge to sell a gift card?
Listing an electronic gift card is free. Raise charges a 15% sales commission based on the transaction price. Though, a physical gift card is charged an additional listing fee, the greater of 1% or $2.75 based on its balance. For example, if you're selling a $100 physical gift card that sells for $80, the sales commission is $12, the listing fee is $2.75, and Raise will pay you $65.25.
2. Gift Card Granny
Gift Card Granny is a website where you can sell your gift card for up to 92% of its original price.
Of course, this is based on demand. If it's a popular gift card like Amazon, iTunes, Best Buy, or Walmart, you'll get paid a higher price.
Do you want to sell Kohl's gift card? Sure! You can also sell Target gift cards. These are popular places to shop, and you will easily find a new home. All your unwanted ones can be sold online without the bother of mailing the physical card.
Does Gift Card Granny pay instantly?
Gift Card Granny will redirect you to a site where you can get paid instantly. You can sell your card if you need cash fast. The payment methods are typically Zelle, personal check, PayPal, direct deposit, or bank wire.
It is also possible to get a higher payment if you want to wait it out. There might also be an option to trade gift cards in for other ones.
Is Gift Card Granny legit?
Gift Card Granny is legit, with around 14 million yearly visitors. Since 2009, they've saved customers $150 million. Granny also guarantees to sell gift cards that don't lose value and always work.
It is one of the most popular places to turn in gift cards for cash.
3. Cardcash.com
When I was deciding where to sell my gift cards online, CardCash has been doing it since 2008. In 2017, Inc named it one of the nation's fastest-growing companies for the sixth year in a row; only four percent of companies qualified for this honor.
Like some earlier sites, you can get up to 92% of the cash value, but it depends on the brand.
How much does CardCash buy gift cards for?
This will give you an idea of what CardCash will pay for various brands at the time of this writing:
Target $100 – You'll get paid $79
Walmart $100 – You'll get $85.50
iTunes $100 – You'll get paid $70
Best Buy $100 – You'll get paid $87
Kohl's $100 – You'll get paid $79.50
Kroger $100 – You'll get paid $81.00
Shell gas station $100 – You'll get paid $85
How long does it take for CardCash to pay me?
Sellers should receive their money within 1-2 business days of the order approval. You can choose to receive the payment via ACH routing number deposit, PayPal, or snail mail.
Is CardCash a legit company?
CardCash is a legitimate company that has been buying discount gift cards online since 2008. They've also received recognition and accolades from publications including Bloomberg, CNN, New York Times, Ernst & Young Entrepreneur of the Year, Inc 5000, and Forbes America's Most Promising Companies.
CardCash also offers a 100% risk-free money-back guarantee on all pre-owned discounted gift cards used within 45 days of its purchase.
4. GiftCash
GiftCash is yet another place I can sell my gift card for cash online for up to 93% of their face value. You can sell Target gift card, as well as many other top cards here (Lowe's, Sephora's, Sears, Saks Fifth Avenue, and more) for more than 80% of their original prices.
How does GiftCash work?
Once at the site, click on Sell. Enter the brand, your gift card balance, then click on "Get Your Offer." The site will even consider partially used cards. The next step is up to you. Choose to "Accept Offer" or go to the next resale website.
Is Giftcash website legit?
Based on our research, GiftCash is a legit website. Since 2007, GiftCash has had a mission of integrity to do the right thing, communication by being timely and accessible, efficiency to process and pay money fast as possible, reliability to ensure safe data, and family by promoting employee happiness.
Though they have a C- from the Better Business Bureau, GiftCash has an excellent 4.6 Trustpilot rating with over 400 reviews.
What is the GiftCash payout time?
The processing time is a little longer than other places to sell gift cards online electronically. Unwanted gift cards from US retailers are typically processed within 10-15 days. The payouts depend on the retailer's country, physical or egift card, retail brand, card balance, and identity verification.
5. Cash 4 Gift Cards America
Cash 4 Gift Cards America is one of the few sites to get paid instantly for gift cards.
At Cash 4 Gift Cards America, the process to sell your old gift cards is easy for first-time visitors:
Enter details – Search through over 650 brands – both physical and egift cards.
Instant offer – Sell your gift cards online electronic instantly or select the desired payout.
Verification – Verify your identity by uploading a valid ID such as a driver's license or state-issued ID.
Payout – Receive your cash in less than an hour through your preferred payment methods such as PayPal, Zelle, or CashApp.
6. eBay
When I was thinking of a site to sell my gift card online, I thought of eBay. At first, I was not that well-versed in selling them, so I thought of a place where you can sell just about everything, and that's eBay!
Unlike gift card reseller sites, eBay doesn't verify balances and offer buyer or seller protection. Many of our earlier picks guarantee the gift card balances. There is much more risk buying and selling stuff like this on eBay.
You will also be exposed to various types of buyers: honest and criminal, etc.
Like with selling other things on eBay, you must be extra careful.
Here are some eBay Seller tips:
Tracking number – Have eBay track your shipping details by using PayPal to buy your postage.
Keep digits private – It may seem like common sense, but never include the PIN or card number in your eBay listing.
Don't reveal details early – Even if the buyer already paid for it, have them wait for the physical one to arrive by mail. Do not reveal the PIN or card number. Someone may intercept the details and spend the remaining balance. It's also possible that the buyer himself had planned out the whole scheme. They may complain about receiving a card that does not work.
Where to sell gift cards near me?
When I was just starting my research, cash for gift cards near me seemed impossible. I thought everything had to be done online, but that's not the case.
7. Craigslist
As usual, Craigslist proved me wrong. You could really buy and sell just about everything here, from the innocent everyday stuff to the shady. Buying unwanted gift cards is no exception.
However, as with eBay, be wary of potential scammers. Even selling tangible things can be an issue when dealing with all sorts of possible buyers. Follow the same protocols on how to stay safe selling on eBay.
Use some of our recommended best places to sell gift cards to determine your list price on Craigslist.
If you choose to sell the gift cards physically through a meetup, make sure that you meet in a public place and that you have someone accompany you. Your phone should be ready in case you are unlucky enough to have transacted with a criminal.
Alternatively, see the article on the best other sites like Craigslist to sell your stuff.
8. Sell Gift Cards Near Me
I can get cash for gift cards near me from a place like a pawnshop. Only consider a pawnshop if you need the money fast. It may not be the best place to sell gift cards for cash because they may only pay you 50% of the verified balance. Their business is to make money reselling stuff.
You can also sell your gift cards to friends and family. If they like the store or the product, they will likely want to buy it for a slight discount from its original price. Plus, your friends and family know where to find you if things go awry.
What are Alternative Ways to Get Rid of your Gift Cards?
However, there are times when I do not feel like selling my gift card for cash. I either do not have enough time or just could not be bothered. My generosity may trigger greater satisfaction. Consider the following alternative ways to get rid of your gift cards:
Donate to charity
Charities accept just about anything useful to them, such as clothing, home goods, and financial donations. Though, some charities have a specific purpose on what they accept. For example, when donating to an educational charity, focus on giving education gift cards for teachers to provide access to books, school supplies, totes and carts for teachers, and the like.
Regift your gift cards
I know people who get unwanted gift cards that sit in a drawer because they don't want them or shop at the store or use the product. I am tempted to admonish them for it, but I do not want to question their sentimentality.
You know me by now. I am more practical and a frugal consumer. If I cannot use it or cannot sell it, then I'll regift a restaurant gift card to someone who can use it.
For example, you receive a store card you don't use or is out of your way. But, your friend shops there regularly. Why not regift the gift card. It makes sense and doesn't go unused.
Start a business flipping gift cards
If they've become a preoccupation, why not learn how to start a gift card buying business. You can flip them to make extra income.
What does flipping gift cards mean?
It means buying them at discount prices (pay $14 for $20 face) then sell for a profit. The selling price should save people a little bit (selling it for $20 after you paid $16 at $18.) You earn a quick profit, and your buyer saves some money. It is a win-win situation.
Buy products to resell online
So, you got a gift card and then found it hard to sell it?
Why not buy products or services using your unwanted gift cards? Then, you can resell those products or enjoy the services. Make the most of it.
At a garage sale
If you are reselling stuff at a garage sale or during an estate sale cleanout, then why not turn your old gift cards into cash too. The most popular things to sell at a garage sale include old games, used furniture, costume jewelry, workout equipment, stamp collections, artwork, camping gear, vinyl records, and coin collections. If you can sell coins, then why not sell restaurant gift cards for cash too.
Depending on the retailer, offer a 15-20% discount, but expect a salesman to try and negotiate the price lower.
FAQs
Can I sell gift cards on OfferUp?
OfferUp prohibits you from selling gift cards to prevent buyers from scams. It's possible for the buyer to take possession of the card with a balance, but then the seller uses the funds immediately after the transaction is complete.
OfferUp is an alternative to Craigslist and runs the same risks. The resale platform imposes some strict penalties on those who are repeatedly non-compliant and sell prohibited items.
Is it safe to sell gift cards online?
It can be safe to sell gift cards online. However, you need to use reputable resale sites.
Why? You know that they have given birth to successful transactions. People have openly expressed their positive reviews for some of the top gift card reseller sites mentioned in this article.
However, let's be realistic. When you are on the Internet – even on a reputable site – you can be in a little bit of danger if you forget to verify the URL. Check for the HTTPS:// at the beginning to authenticate your financial data is securely transmitted.
When dealing with buyers through eBay and Craigslist, you may or may not be dealing with scammers. You have to take the necessary safety precautions when meeting a Craigslist buyer.
Is it legal to resell gift cards?
It is legal to resell gift cards. However, you cannot hide any terms and conditions that the buyer must know. There must be full disclosure of all facts, including the remaining balance or expiration dates.
Obviously, it would be fraudulent and illegal to sell gift cards whose PINs have already been used.
What type of gift cards can I sell online?
You can sell both physical and digital gift cards online. For example, at Raise.com and other specialty sites, you can sell both types. However, you must factor in shipping costs if you are selling physical cards.
Through sites that do not assure the security of gift card PINs, it is best to sell physical cards. As mentioned earlier, an eBay modus operandi has you selling your physical card and emailing the PIN. This is a dangerous game to play. The buyer may use up the remaining balance and then turn on you, complaining that you have sold them a blank card.
According to a Gift Card Granny analysis, they saw people pay more for gas station and grocery store gift cards with an average of 89% of the full value; the local restaurant can be popular too.
Where can I trade my gift card?
Gift Card Granny allows users to exchange gift cards online or nearby. Go to the gift card exchange section and enter your zip code to find a place that will trade your gift card near me. I was able to find 11 locations within driving distance of me.
Where can I sell gift cards online electronically instantly?
The best place to sell gift cards instantly is at Cash4GiftCardsAmerica. There are several resale sites listed above that take several days to get paid. If you need the money fast, then consider Cash4GiftCardsAmerica because they pay you within an hour once you're verified.
Where Can I Sell iTunes Gift Cards?
You can sell iTunes gift cards on several online resale sites, such as GameFlip and CardCash. While researching, CardCash offered us $70 to sell a $100 iTunes. GameFlip allows sellers to list their unwanted iTunes gift cards in front of thousands of buyers on its marketplace, vs. CardCash will make you an instant offer to buy your card.
Where can I sell egift cards?
An egift card is an electronic gift card vs. a physical one. Consider resale websites like Raise, Gift Card Granny, and CardCash. You can sell it anywhere that you can sell physical and electronic gift cards instantly.
Where can I sell Amazon gift cards?
Most Amazon gift cards are electronic and not physical. The best place to sell gift cards like Amazon is on marketplaces highly trafficked, like Raise.com.
However, Amazon is the ultimate online shopping site in the world. Why don't you buy something that you like or a gift for someone's birthday or holiday? At least, you can use 100% of the gift card's value. Their prices are better than most online coupon sites.
Alternatively, you can then just resell the product you purchase with the Amazon gift card.
Can you return unwanted gift cards?
In most cases, you cannot return unwanted gift cards. A store such as Target will buy gift cards back if they are unused and you have the original receipt.
Our list of the best places to sell gift cards online will not accept unwanted purchases. You'll need to go back and resell them.
The short answer then is that returning gift cards to merchants is likely not an option. You may double-check the fine print, as there are rare exceptions, like Target, that accept returns.
Where to sell gift cards online for direct deposit?
The top websites that sell gift cards provide options to get paid via direct deposit, PayPal and check. Raise.com and Gift Card Granny has the option for you to get paid by direct deposit.
Why Don't People Use Their Gift Cards?
Many people have an unwanted gift card that they were given at some point. These unused gift cards have no value to them until they are used to purchase something from their respective store. It's better to sell the unwanted gift card to someone who will use it, and then use the money to spend on a product of your choosing.
That's why many people try to either sell their unused gift cards or swap them at a gift card exchange site or online gift card exchange. A gift card exchange website gives you the opportunity to get a gift card for the store you want to shop at.
What Are the Pros and Cons of Buying With a Gift Card
Before you buy a gift card or use one of the gift card exchange platforms, it's a good idea to look at the pros and cons of buying products with a gift card.
Before you buy something, it's worth checking if you can use your gift card to make that purchase and if you need to present cards in person. There's also the issue of limited time in which you have to use gift cards before they expire.
Pros of Buying with a Gift Card
If you buy online, you may have to provide your credit card details, and you could avoid that by using a gift card if you want to protect your privacy or you don't trust the security on the site.
If you are unable to make cash payments, you could make use of an unwanted card that has prepaid card credits on it and could carry it to use in case of an emergency.
When you make purchases with a credit card or debit card, there may be a transaction fee that you could avoid by buying with a gift card (although you may then lose out on credit card rewards that you get with American Express or similar cards).
It can save you money to pay with a gift card if you've managed to buy it at a discount.
Cons of Buying with a Gift Card
If you buy a gift card for sale at gift card exchange kiosks or through an online gift card exchange, you may fall into gift card scams and lose all your money.
Not all stores accept gift cards.
There are many unused gift cards for a reason. You may lose the card or forget to redeem it and lose out on the money. If you lose the card, there's no way to get the money back, unlike a debit card where the money remains in the bank.
You don't have the option of arranging payment options or a monthly payment plan when paying with a gift card.
Gift cards can expire, and you may have a limited time in which to use them.
Ways To Sell Gift Cards For Cash Near Me & Online Summary
Whenever I receive a new gift card, I am torn. There is that part of me that goes, "Whee, let me see what I got." On the other hand, there is the part that wonders if the other person had made much effort. It is especially disappointing they chose something you don't like, such as coffee at Starbucks.
Imagine getting a Starbucks gift card when you don't drink coffee or a Chipotle gift card when your stomach cannot handle spicy foods. Would you like just to let these restaurant cards gather dust and expire? Of course, not.
Hopefully, we gave you some ideas as to what you can do with your old gift cards. It's also possible to regift unused cards so others can benefit.
See our guides on how to buy gift cards from the following stores:
Find the best way to maximize the value of your cards.